FC Barcelona manager Pep Guardiola has confirmed in a press conference earlier today that he will not be renewing his contract with Spanish giants at the end of the season, and will be stepping down.
The 41-year-old discussed the decision with his players this morning, as he led his sides training session.
Many of the clubs star players, including Xavi Hernandez, Andres Iniesta and Cesc Fabregas were present at Guardiola's moving press conference, where he apologised numerous times, but expressed his need for a break from the game as he feels "drained".
Guardiola, who made 263 appearances for the Catalan club as a player, is Barcelona's most successful manager, winning an amazing 13 trophies in just four years at the club. It is truly an end of an era.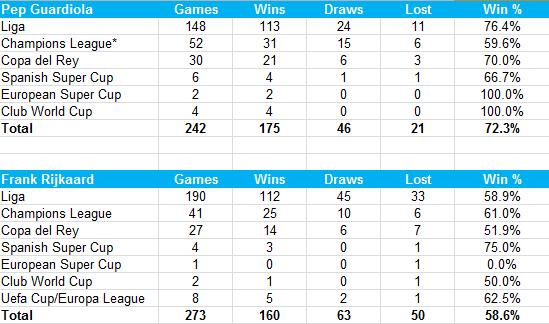 Guardiola's record as Barcelona boss compared to previous boss Frank Rijkaard
In accordance with the Barcelona philosophy, the club have ended all speculation linking numerous different big names with the job, by appointing Guardiola's right hand man, and a very popular name amongst the Barcelona squad, Tito Vilanova as the new man who will take charge in the summer.
Real Talk Football
Follow me on Twitter @RealTlkFootball