Since there are just 13 days till this year's World Cup, Real Talk Football have looked over the 32 teams and will highlight the player from each group to look out for, and discuss what they bring to the table for their countries campaign.

Group A

Name: Luis Suarez
Country: Uruguay
Age: 23
Position: Striker/Attacker
Int Caps: 29
Int Goals: 10




The Ajax front man was handed the captaincy of the Dutch side due to Thomas Vermaelen's transfer to Arsenal. The striker is one of the most converted strikers in Europe and it is believed Chelsea have first option on the 23 year old. He has also been liked with AC Milan, Manchester United and Arsenal.

Suarez has excellent technical ability, skill and acceleration. He has dominated the Dutch league over the past few seasons, scoring 84 goals in 126 appearances. However players such as Mateja Kezman and Afonso Alves failed to replicate their tremendous goal scoring record outside of Holland, so it will be interesting to see if Suarez gets his move abroad, and if it's an eventual success. With his natural ability and talent, he is more than capable of slotting into a top European side.





Group B

Name: Angel Di Maria
Country: Argentina
Age: 21
Position: Left Midfield
Int Caps: 8
Int Goals: 1




I'm sure everyone has heard this individuals name in the last 6 months; he has been instrumental to his club side Benfica's return to prominence in the Portuguese league. The left winger has been touted with a move to many of Europe's big clubs including Liverpool and most likely suitors Real Madrid.

Renowned for his excellent dribbling ability, technique and long shot, the 21 year old is part of Diego Maradona's 23 man squad and is expected to be competing for the left midfield spot as he takes part in his first World Cup. Look out him, he'll be wearing the number 27 shirt.



Group C

Name: Maurice Edu
Country: USA
Age: 24
Position: Centre Midfield
Int Caps: 13
Int Goals: 1




The 24 year old plays for Glasgow Rangers in Scotland, and is a bullish tough tackling midfielder with excellent stamina, speed as well football ability. He can attack, pass effectively and is competent enough to play in different positions. He has 13 caps for USA and was instrumental in helping them qualify. Only injuries have hampered Edu's career somewhat but should he stay fit, he could go onto greater things.

Edu was the 2007 MLS rookie of the year in America, before he joined Rangers. Now making his first appearance at the World Cup, expect him to compete for the central midfield role, while his versatility allows for him to slot in a centre back in need be.



Group D

Name: Mesut Ozil
Country: Germany
Age: 21
Position: Attacking Midfielder
Int Caps: 8
Int Goals: 1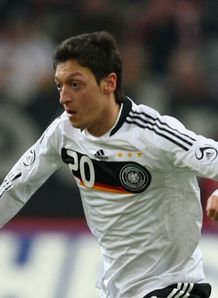 Touted as one of the most exciting and promising young playmakers, the Werder Bremen German born player of Turkish descent is playing at his first World Cup. Creativity, flair, technique, agility; just some of the words used to describe the individual's game, subsequently leading to him being linked to some of Europe's big names, however it is more than likely that Ozil will stay in Germany for many years to come.

Ozil's International name was established at under 21 level where he was the key to Germany's European Under 21 Championship triumph in 2009. Now with Michael Ballack ruled out of the World Cup, Ozil will now have the opportunity to compete with players such as Tim Kroos, Piotr Trochowshi and Bastian Schweinsteiger for the central midfielder role, something in which the 21 year old will undoubtedly grasp with both hands.





Group E

Name: Nicklas Bendtner
Country: Denmark
Age: 22
Position: Striker
Int Caps: 32
Int Goals: 11




Who else is their but the Arsenal forward? Halfway through the 2009/10 season the young Dane had to step up to the plate on his return from injury to finish with 12 goals in 31 appearances, helping the Gunners third in the Premiership. The Danish international receives mixed reviews from both critics and fans alike, however he undoubtedly has the potential and ability to be one of Europe's top strikers.

Bendtner has 32 caps for Denmark and has scored 11 goals. His is a tall rangy striker, with great aerial ability, balance, hold up play and technique, while his finishing ability leaves a little to be desired (similar to that of Zlatan Ibrahimovic). However with the full backing of both Arsene Wenger and International coach Morten Olsen, the 22 year old will be the focal point of Denmark's attack in pursuit of the World Cup trophy.



Group F

Name: Stanislav Šesták
Country: Slovakia
Age: 27
Position: Striker/Right Midfielder
Int Caps: 29
Int Goals: 10




The 27 year old versatility and pace are amongst his strong points, as the VFL Bochum attacker can play either right midfield or up front. He was Slovakia's top goal scorer in the qualifying campaign with 6 goals, helping his side finish top of their qualifying group above both Slovenia and Czech Republic.

The 27 year old has been around for a few years, mainly playing in the Slovak league, achieving a impressive goal scoring record, helping him gain a move to Germany. His pace, acceleration and technique are amongst the qualities possessed by Sestak, which will have to be implemented in South Africa if the Slovakians are able to cause an upset, provided they carry their qualifying form into the tournament.



Group G

Name: Gervinho
Country: Ivory Coast
Age: 23
Position: Striker/Right Winger
Int Caps: 13
Int Goals: 4

Gervinho, full name Gervais Yao Kouassi is one of my personal favourite players, currently playing in Europe with French side Lille. He has played 22 times for the French club, scoring 11 goals in the process.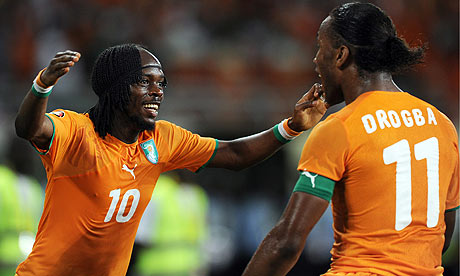 The Ivorian possess excellent dribbling ability, combined with agility and drive, with his direct methods causing defenders all kinds of problems. He has played in the Europa League last season, and is playing in his first World Cup. When playing for the Elephants, he plays up top in a front three consisting of Salomon Kalou and Didier Drogba.



Group H

Name: Alexis Sánchez
Country: Chile
Age: 21
Position: Striker/Left, Right Winger
Int Caps: 27
Int Goals: 10




He made his international at 17 year of age in 2006, and has been in and around the squad since then, before fully gaining a starting role within the squad He during the 2010 qualifying campaign, which coincided with his move to Udinese in Italy in 2008.

The Chile number 7 scored 3 times in the CONMEBOL qualifying campaign, with 10 from Humberto Suazo, helped Chile finish second in the table behind Brazil. Although not prolific in Italy, only hitting the net 8 times in 62 appearances, the 21 year old has been playing out on the Bianconeri wing showcasing his pace, exquisite skills and dribbling ability. He is a very exciting player and this year's World Cup is the perfect stage for him to showcase this talent.
The World Cup is just around the corner... Real Talk Football