With Arsenal showing record
pre tax profits
thanks to smart business movements, there are serious calls from Arsenal fans and many football pundits alike, for Gunners boss Arsene Wenger to use the money to seriously invest in a goalkeeper. I echo these sentiments. Since many world class keepers may not be currently available at this very time, simply due to clubs holding teams more and more to ransom over transfer fees, along with Wenger's reluctancy to "loosen the purse-strings" or "spend big" on a player, let alone a goalkeeper, means Arsenal's scouts would need to look for the most viable options.

Lets look at the options available right now
No. 1 – Manuel Almunia, Age: 32
The man signed Celta Vigo in Spain never really set the Premiership alight with his ability; however he gained respect for his shot stopping skills and penalty saving capability. However he has come under increased pressure over recent seasons due to a string of high profile errors, showing that he just cannot perform in high profile matches. Disastrous errors against Manchester United in the Champions League Semi-final, again in the 2-1 defeat to Manchester United in the Premiership game where he gave away an unnecessary penalty fouling Wayne Rooney. But the final nail in the coffin which some Arsenal fans found unforgivable was that David Bentley goal in the 4-4 draw against rivals Spurs. Now I don't want to add to the critics but it seems his is performing similar to how Arsenal legend Jens Lehmann performed before he was dropped and sold. Back then Almunia provided admirable competition for the German, but as of right now the likes of Mannone and Fabianski are surely not troubling the Spaniard for the number 1 spot.

No.2 – Lukasz Fabianksi, Age: 24
Where do we start with this guy? Wenger seems to have unbelievable faith in the Polish international. Indeed he is very young, and its no secret that goalkeepers prime is between the ages of 32 and 37 years old, and has a lot to learn, but his performances have failed to offer any other role to the Arsenal side than a Carling Cup goalkeeper. He made errors in the FA Cup Semi-final against Chelsea in the 2-1 defeat where he was at fault for both Malouda and Drogba's goals. Most recently he played terrible against FC Porto in a vital away Champion's League game, at fault again for both goals. He was also the goalkeeper in the 5-1 defeat to Tottenham in the League Cup Semi-final defeat in the 2007/2008 season. The 24 year old is struggling to instil that same belief Wenger has in him, into Arsenal fans. He cannot consider himself the Arsenal number one any time soon, unless there is a vast improvement in his ability and performances.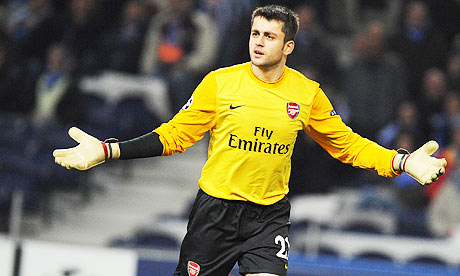 No. 3 – Vito Mannone, Age: 21
The young Italian was thrown into action earlier this season after both goalkeepers became injured and managed to put in some very commendable performances against the likes of Olympiacos, Fulham, Stoke and Wigan. Looks like a player for the future, but not the too distant future.




Arsenal are forever linked with players, and seemingly 90% of theses names linked are untrue. Wenger is unlikely to sign a player unless he feels it's a must. Some of the goalkeepers linked include Rui Patricio of Sporting Lisbon, Thomas Sorenson of Stoke, Artur Boruc of Celtic and even the likes of Gianluigi Buffon of Juventus (so unlikey I cannot comprehend!) So l believe there are only a select few players Wenger could bring in. They are as follows:

No.1 – Igor Akinfeev, Age: 23
The Russian goalkeeper is an exceptional player and has represented his national team since the age of 18. He has played over 179 games for Russian superpower CSKA Moscow, and solidified his position as the number one goalkeeper and one of the best in Europe. He has one numerous trophies and has vital experience not normally associated with a player of his age. Akinfeev is a player who would suit Arsenal very well and would command a transfer fee of £15million and upwards. Wenger would have to think hard about this decision, and act before a possible bidding war begins, with the goalkeeper being continuously linked, amongst others with Premiership rivals Manchester United.




No.2 – Hugo Lloris, Age: 23
The new French number one is another excellent goalkeeper who plays for French side Lyon. The number 1 has risen up through the French Ligue 1 and showed his brilliance in the controversial win over the Republic of Ireland in the World Cup Qualifier, where he was voted man of the match. He is expected to be between the sticks for Les Bleus at the 2010 World Cup. The downside to this option is that Lyon are known for holding on the their players for as long as possible and commanding the biggest transfer fee available (Michael Essien to Chelsea and Mamadou Diarra to Real Madrid), however the fact he is French may have a positive impact on Lloris.

No.3 – Joe Hart, Age: 22
This has become a quietly growing link as the 22 year old has been outstanding for Birmingham this season, and his English nationality is something that is appealing to Premiership sides. The youngster has been in excellent form for Birmingham and has displayed some brilliant performances that helped the midlands side set a club record of going 15 games unbeaten. He has played 75 Premier League games in his career, and is currently on loan from Manchester City. With City's number one being the brilliant Shay Given it is unlikely he will be starting for Citizens any time soon. He is an excellent prospect however his lack of big match or International experience would provide an undoubted risk Wenger would be probably unwilling to take.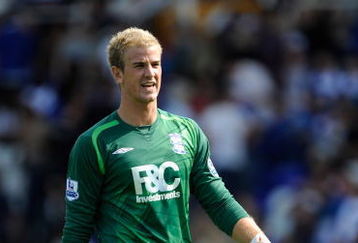 There are numerous goalkeepers around at the moment but if Wenger feels he needs to buy someone; Akinfeev or Lloris would be excellent decisions and the fans would probably feel a sense of Arsenal flexing their financial muscle in the transfer market.
Who do you feel Arsenal should invest in? Leave a comment or email me @ realtalkfootballblog@hotmail.co.uk