Roberto Mancini was recently asked;


"
It's nearly a year since you became manager
(of Manchester City)
and the man you replaced is managing the opposition team
(Mark Hughes of
Fulham
),
do you feel this team has improved in the year that you'

ve

been here?
"
The 45 year old took his time to reply and stated simple that they "
have improved
", and continued to defend his corner when being pushed by the journalist stating that "
by the end of the season, we will be in the Champions League and (we) will win something
".
Confident words and a confidence response, the video of which can be seen
here
. However the real question to ask is; with their millions of pound twined with the calibre of players in the Manchester City squad, is there any real substance to Mancini's claims?
Under former boss Mark Hughes, it was clear that being at the helm before the new owners took charge; ultimately meant his time in charge would be limited, however during his spell at the
Eastlands
club, he had amassed a number of
great victories
, including
two big
wins over Arsenal
, a
win over Chelsea
and thrilling encounters in matches against local rivals
Manchester United
.
But most importantly was the sense that under his guidance, and with his free flowing attacking Manchester City side, it would not be such a silly statement to believe that they would make it into the Champions League sooner rather than later, establishing them as a serious threat to other teams at the top of the division.
It would now be argued, that with following his
poorly handled dismissal
, Man City's signing's are a step forward and those which should have any football fan drooling, but football wise, the club has taken a step backwards.
Under Mark Hughes, the club were scoring goals, their strong-arm tactics were ruffling feathers and many clubs
couldn
't handle this new found City side and their new found ability to outplay sides, making them look a certainty for that elusive fourth spot.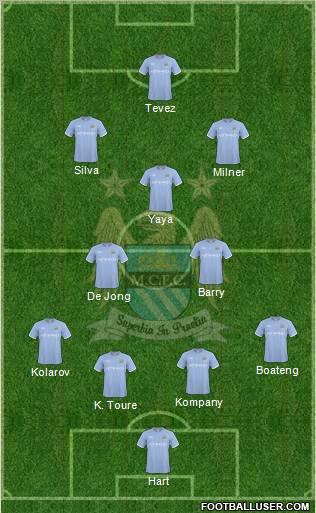 Mark Hughes Favourite Line-up
However Mancini was drafted in,
boasting three

Serie

A
titles in the bag, and the experience of working with high calibre names. His first few months in charge saw a slowdown in Man City's free flowing attacking prowess and saw a more resolute and compact side emerge, one that in the end cost them the much craved 4
th
spot,
losing out to

Tottenham
.
Now after a
summer of activity
, which has seen them spend money like its heading out of fashion, saw the likes of the talented yet temperamental Italian/Ghanaian Mario
Balotelli
(£24 million), Midfield powerhouse
Yaya
Toure
(£28 million), attacking midfielder David Silva (£24 million), left back
Aleksander
Kolarov
(£16 million), versatile defender Jerome
Boateng
(£11 million) and exciting midfielder James
Milner
(£24 million) all join the club, saw a team with an array of players good enough to contend for the Champions League crown let alone the Premiership title.
But with this in mind, despite Man City progressing as they should with the quality on show, they are still not meeting their full potential and for me these boils down to one sole entity; and that is that of boss Roberto Mancini.
Despite
beating a few of the
big teams on the odd occasion
, Mancini seems to be satisfied just to match these "
big teams
" rather than play to win (
the Manchester United 0-0 draw comes to mind
). The defensive minded 4-5-1/4-2-3-1 formation, may just about overpower some of the "
smaller
" teams, but Manchester City fans "revolution" seems to have stalled, with them and pundits alike not really too impressed.
Fair enough Mancini's player need time to gel, but I feel that when you pay a lot of money for these kinds of players, and you have a mix of players who have Premiership experience (Such Bridge, Richards, Hart, Given, Barry,
Adebayor
,
Tevez
) you don't need as much time to adapt to the Premiership, as the bunch coming in from overseas.
Also Mancini may state that his side are now "
playing as a team
" and "
doesn

't concede a lot of goals
" and so on, but the potential of Man City to be World beater is that which cannot be ignored.
In the Premiership, it's known for its fast paced, all action, highly committed open football. Not defensive minded tactics, no nonsense "
stop at all means necessary
" defending and holding midfielders.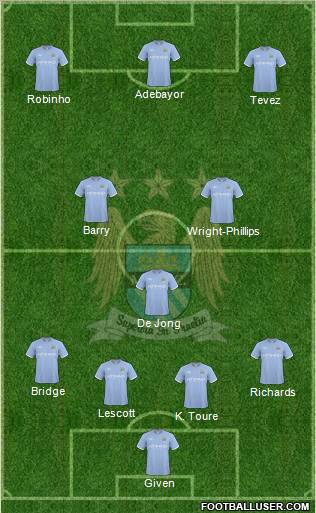 Roberto Mancini's Favourite Line-up
Mancini needs to consider toning down the defensiveness and adapting a more expansive approach in order to ascertain the heights Man City are capable of reaching, as the Sheiks patience may be shorter than it seems.
Allow De
Jong
to anchor the midfield, while
Yaya
Toure
runs the midfield. Play
Milner
on the right wing, with Adam Johnson on the left, allowing for them to switch sides and get forward. With
Yaya
and De
Jong
in the middle, the freedom going forward will be greater as the two central players have great engines and are just as comfortable tackling as they are passing.
In defence, keep the
Kompany
and
Toure
partnership as they create the foundation for the side.
Kolo
Toure
has great experience, while
Kompany
is a highly skilled individual with an eye for the game.
Lescott
,
Boateng
and the young
Boyata
are more than admirable deputies.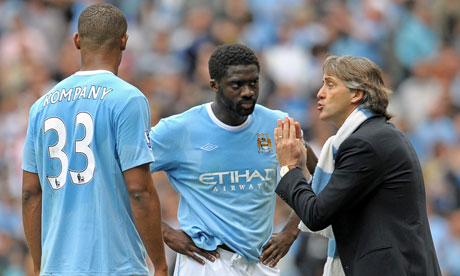 Full backs are the area's whereby the side could definitely need strengthening, I'm not one for rumours, but Dani
Alves
of Barcelona is a name being touted around. For now Richards is a capable right back, while
Boateng
's versatility allows for him to cover at right back.
Left back, is another problem area, while
Kolarov
had a budding reputation in Italy, injury has hampered his start to life in England. Also Wayne Bridge still warms the treatment room, and never seems able to string more than a few games together before
reinjuring
himself. The versatile Argentine Pablo
Zabaleta
has been playing left back most recently, and will continue to do so until a greater option comes in.
The
frontline
is the most intriguing part of the Man City's line-up, with a combined value of £122.5 million; the options available are the envy of any club in the World. With the disruptive influence of Emmanuel
Adebayor
, he would have no place in my team, and Mancini seems to feel the same.
J ô seems to be favoured by Mancini and must be impressing in training as after previous spells away from the club on loan, he has been given his chance in the team, all be it from the subs bench.
Roque
Santa Cruz pretty much has no future at the club, and is expected to leave this January. With his injury prone nature and lack of goals, he is expendable.
Finally we come the final three strikers, two of which need to slot into the starting eleven. For me,
Tevez
is one of the best players in the World, hence for that reason, he has to start. Supporting him; the highly creative and technically gifted David Silva would be an excellent link between midfield and the strikers; however I feel
Balotelli
's ability, value for his worth would make him a starter and be capable of forming an excellent partnership with
Tevez
upfront.
This, of course is just my opinion, and my feelings to what I would do if I was under as much scrutiny as Mancini is. Manchester City has an abundance of riches as well as an abundance of talent, however with these great expectations come great responsibility. Champions League qualification, and some form of silverware is the benchmark for this season, and unless Mancini start delivering on his promises, he could be on his way out sooner rather than later.
What are your thoughts on Roberto Mancini's reign? How long do you guys think it will last? What does the future hold for Man City? Let us know what you think