Yes, Real Talk Football highlights yet another Arsenal related post, but over these past two weeks, the North London side have played in some career defining matches let alone season defining ones! They are the relevant topic at the moment, and unfortunately, it's not in the manner most Arsenal fans had hoped for.
Arsenal last night
tumbled out of the FA Cup
, exiting their third cup competition in just 2 weeks, after Arsene Wenger was tactically outclassed by his old foe Sir Alex Ferguson, in a 2-0 defeat to Manchester United.
A goal from Brazilian full back Rafael, who was playing out of position in an unfamiliar right midfield role, as well as striker
Wayne Rooney
who doubled the lead (who evidently was scoring his 9th career goal against Arsenal) to help Manchester United to a well deserved win.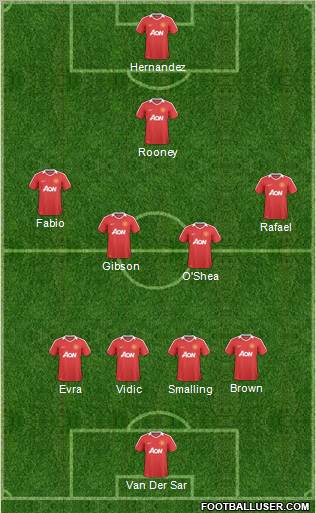 Some fans will try to claim solace in the fact that Goalkeeper and Dutch veteran
Edwin Van Der Sar
was voted Man of the man as Arsenal had a spell where they tested the 41 year old on a total of nine occasions. This however, would ultimately be clutching at straws, as the prospect of a domestic double is that which Arsenal boss Arsene Wenger and Arsenal fans would have craved, as just rewards for their stellar attacking performances this season.
Regrettably, the
story
was an all too familiar one for Arsenal fans. The North London side's passing was superior to Manchester United's, with a total of 88.4% passing success rate. They also had more attempts on goal, with 15 in total, and the away side even dominated possession, with 60% in total, yet they ended up on the losing side.
Manchester United on the other hand, played the perfect counter attacking game and are now unbeaten in their last eight meetings against Arsenal. The United formation allowed Wayne Rooney to drop into the midfield, and act as the outlet, as well as the link between the midfield and Javier Hernandez, who was playing as the sole striker.
Countless times Arsenal had the ball in the Manchester United final third, and lacked any sort of determination to get on the score sheet. They lacked the creativity of Cesc Fabregas, the pace of Theo Walcott, and dare I say it; the directness of Nicklas Bendtner.
Every time Samir Nasri, or Andrei Arshavin had the ball in the wide areas, they would ignore the overlapping fullbacks and play a ball square, while Manchester United simply pounced to break up possession and look for the direct ball into the channels, and up the pitch. With Arsenal's shaky defence, United always looked the more likely to capitalize on their chances.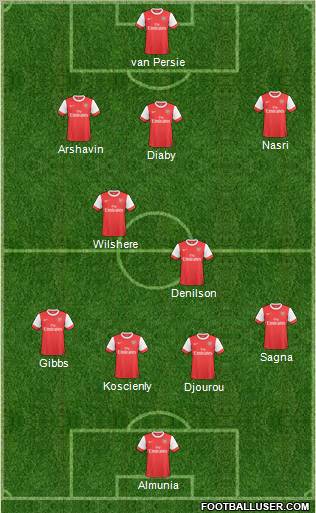 I understand that Arsene Wenger wants to win trophies the right way, his way, with his philosophy of building up a team from scratch, nurturing young potential into world class players. This is fair enough, but there is no shame in spending a bit of money on that final piece of the puzzle. Fans and pundits will still respect you, as you have established this great squad, but you still made the right strategic move by buying proven quality.
Ultimately, it was clear to see that there is still a distinct lack of leadership amongst the Arsenal team. None of the players play with their heart on their sleeves, take the game by the scruff of the neck when it's required, nor do the players outside of the first eleven seem to deputise capably when the opportunity arises.
In the goalkeeper position, it is no secret the problems have had since German Jens Lehmann left in 2008. Current occupier of the Number One shirt; Manuel Almunia is a great shot stopper, I believe many football fans will agree on that, as on the rare occasions where Arsenal have been "
under the kosh
" he has made some fantastic saves. Nevertheless there is always an underlying belief that Almunia, or even Fabianski, is an accident is waiting to happen, and when this mistake occurs, it hardly comes as a bombshell.
Just Imagine if Arsenal had a world class consistent goalkeeper playing throughout the entire season? Where would they be? My guess is higher up the table and further in the cups then they are. Names such as Edwin Van Der Sar, Petr Cech or even a Joe Hart prove this statement.
Experienced individuals such as the Tomas Rosicky are clearly not worthy of their first team chances, with the Czech Republic international evidently a shadow of his former self. Another elder member of the squad; Sebastian Squillaci, has failed to impress during his first season in the Premiership, and already looks expendable.
Midfielder Abou Diaby has been very poor this season, both injury-wise and form-wise, and his performances still struggle to convince fans that he is the right man for the job.
Meanwhile fellow centre midfielder Denilson is a very frustrating player indeed, while he is comfortable on the ball, his passing and defensive responsibilities abandon him at critical occasions.
Finally, and for some the most disappointing performer this season; is Russian Andrei Arshavin. He has managed 11
assists this season
, but that is the only thing he has produced. He is nowhere close to the form he first showed during his first year at the Emirates. He himself has admitted his form has been poor, but it seems every time the Russian is on the field, he's more concerned whether he has left the iron on at home, rather than how to beat his opponent.
The biggest fall from grace this season, has been Moroccan striker
Marouane Chamakh
. The 26 year old scored 11 goals in his first 21 games for the club, until the beginning of December where he has appeared in 17 matches, and only managed 1 goal.
This is an amazing drop in form, with the striker himself blaming
fatigue/tiredness
. We are in March, and it begs the question if, and not when, the Moroccan will regain his form, and whether it will be too little too late for Arsenal.
Arsenal have a brilliant starting eleven, with an attacking prowess and technical ability other teams crave for, but the lack of character, and die hard attitude, which some would call "
a winning mentality
" is a frailty and a burden Arsenal need to eradicate if they are ever to get over this so called "
allergy to silverware
".
Let me know what your thoughts on Arsenal are? What is the cure for Arsenal's "allergies"?

Manchester United fans, how do you feel? Do you guys see Arsenal as serious contenders, or mandatory challenger? Leave a comment below, and let me know.
Real Talk Football