After much speculation this season, Manchester United's Dutch international goalkeeper Edwin van der Sar has
confirmed he will retire
at the end of this season, aged 40 years old.
He is arguably Manchester United's best goalkeeper of the last decade, and their best and most reliable player to wear the number one shirt since the legendary Peter Schmeichel.
Van der Sar has made over
175 appearances for United
, since joining from
Fulham in 2005
. He had previous spells at Juventus (which lasted two years, and was deemed unsuccessful, despite making 66 appearances for the Turin based club), and the place where he started it all; Ajax. His time with the Dutch club was the place where
Van der Sar made his name in Europe
, as he was part of the famous 1991-92 UEFA Cup and 1994-95 Champions League winning side, and he made over 200 appearances during his nine years at the club.
His time at Manchester United was undoubtedly the most successful spell in his career. Despite joining at the age of 34, he established himself as the number one goalkeeper at the club, and forged his name as one of the top three goalkeepers in the Premiership over the past five years.
Manchester United manager explained stated his
admiration for the Dutchman
, stating:
"Fantastic – a magnificent person, professional goalkeeper, an absolute marvellous career he's had, He's an example to anyone who wants to become a goalkeeper."

"Edwin sails through life without any changes in it, he never changes, (and) he has a consistent nature. He's unflappable. "He's calm, he doesn't look to search for press for himself, he's happy with what he's achieved in life and he's not searching for anything, he's such a good man."

During his time at Manchester United, he won three back to back Premiership titles (2006/07, 2007/08, 2008/09), a League Cup (2006), three FA Community Shield's (2007, 2008, 2009), a UEFA Champions League (2007/08) and the FIFA Club World Cup (2008).
Individual accolades he achieved at Manchester United included being named 'Best European Goalkeeper' in 2009, the 'Barclays Golden Gloves' in 2009, as well as being named in the PFA Team of the Year on numerous occasions.
As we are mid way through the 2010/11 Premiership season, Manchester United are still in three competitions, so Van der Sar still has the opportunity to add to his medal haul.
Goalkeeping History: Replacements for Peter Schmeichel
Now with such a key player leaving at the end of the season, Sir Alex Ferguson needs to make sure he gets in the right replacement. Rivals Arsenal struggled to replace Jens Lehmann when he left the club and it took Ferguson six years to select Van der Sar as the perfect replacement for Schmeichel at Old Trafford.
During that time he signed a few good goalkeepers, who just struggled to deal with the weight of expectation, but he has signed some really average individuals.
Raimond van der Gouw 1996 – 2002
This Dutchman was
second fiddle
to Schmeichel for three years, and never really got his chance in the first team ever when Schmeichel left. He played a few big Champions League games, but only managed to make 37 appearances.
Mark Bosnich 1989-1992/1999-2001
He spent two spells at Manchester United, but
made his name in the Premiership
at Aston Villa (where he spent 7 years). His spell at Manchester United was the beginning of the end for him. He failed to gain a first team place, and struggled to prove his value to the time.
Aged 29 he joined Chelsea from Manchester United, and his career spiralled out of control. One of the best goalkeepers to play in the Premiership,
his career faltered and he picked up a drug problem and failed
to ever play at the highest level again.
Massimo Taibi 1999 - 2000
A legend in English football... But for all the wrong reasons! He was seen as direct replacement for Peter Schmeichel, and played just four times.
He was known for this shocking blunder in a match against Southampton, as well as playing in a 5-0 defeat to Chelsea. He cost Ferguson £4.5 million, and was shipped back to Italy after just one season.
Fabien Barthez 2000 – 2004
A very good goalkeeper, the
eccentric Frenchman
established himself in Ligue 1 in France, before crossing the waters and testing himself at Manchester United. He cost Ferguson just under £8million, and he made 92 appearances in four years.
The reason for his demise, which included being sent to Marseille on a season long loan, was his tendency to make
big errors
in key matches, while his attitude sometimes angered Sir Alex Ferguson. He left for Marseille in 2004.
Andy Goram 2001
Scottish goalkeeping
legend joined Manchester United
aged 36 years old. He was seen as a short term option, he only played 2 games. It was seen as a waste of time, and pointless acquisition.
Roy Carroll 2001 – 2005
The Northern Irishman made his name in the lower divisions, before moving to Manchester United for a
fee of £2.5million
. He was seen as another understudy, and couldn't force his way to the undisputed number one. He managed to make 49 appearances in four years, but is another player who will be remembered for a massive blunder. Think Pedro Mendes, 2005, a shot from the halfway line, the goal that never was. He left for West Ham in 2005 on a free transfer.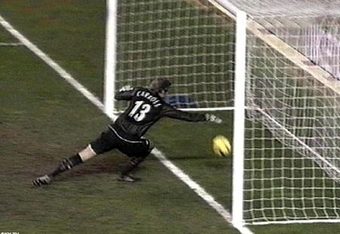 Ricardo 2002 - 2005
Another
waste of money
, a £1.5million signing, the Spaniard only made one appearance in three years.
Tim Howard 2003 – 2007
Howard, a United States international, wasn't a bad signing or a bad player, but he just struggled to deal with the weight of expectations put on him at Old Trafford. After all the above stated names, he just became another Manchester United flop, making vital errors in many key matches.
He fought with Roy Carroll for the number one shirt, but never succeeded in claiming the role
. Eventually Ferguson signed Edwin van der Sar, and Howard would play second fiddle from then on. He was subsequently loaned out to Everton, who went on to sign him permanently in 2007.

Possible replacements for Edwin van der Sar
With the vast amount of time, and money spent on players during these six years period, Sir Alex Ferguson knows it cannot take that long this time around. Competition is too vast at the top of the Premier League, and on the continent for Manchester United to fall behind.
Here's a look at the number of names being linked to the number one shirt:
David de Gea – Athletico Madrid – 20 years old – 7/11/1990
A player featured on this blog before, he was thrown in at the deep end at his club, making his professional debut aged 19. He is still the number one goalie, keeping the former regular first choice Sergio Asenjo on the bench.
He has played
down a link to Manchester United
insisting he is happy in Spain, and isn't ready to make the move abroad just yet.
He has been likened to Iker Casillas, and for our look at him from earlier in the season, click here
.
He may not see himself as ready to make the move, but if Manchester United come calling, it's very difficult to turn it down. If Manchester United attempt to sign a keeper now, they may spend big, as the will expect him to be there for the long run, so de Gea could miss out on his only opportunity.
Manuel Neuer – Schalke 04 – 24 years old – 27/03/1986
A name that has
been linked with all the big clubs in Europe
, he was the
German number one
at the 2010 World Cup, and impressed on the World's grandest stage. He plays in the Bundesliga with Schalke 04, and has made over 140 appearances since making his professional debut as an 18 year old.
He is an excellent shot-stopper, with great agility and distribution. He commands his box very well and can be pretty much described as
typical solid German goalkeeper
.
Maarten Stekelenburg – Ajax – 28 years old – 22/09/1982
Another quality Ajax goalkeeper, he could be
influenced by Van der Sar and take his opportunity to move to England
. The
new Holland number one
was instrumental in helping his side reach the World Cup final. He has been at Ajax for 10 years, making over 160 appearances since becoming first choice in 2005.
Stekelenburg is another great shot stopper, but his best attribute are his excellent reflexes. He commands his area very well, and is a well rounded
top international quality goalkeeper
.
Igor Akinfeev – CSKA Moscow – 24 years old – 8/04/1986
The young Russian is just 24 years old, but he is one of the best goalkeepers in Europe and has a vast amount of experience at such a young age. He started his career at CSKA Moscow aged just 17 years old, and has since played almost 200 matches. He is the club captain, first choice for Russia, and has 46 international caps.
Great reflexes, excellent in one on ones, good anticipation and distribution are just some of the highlights of his array of talents.
He really is a top top goalkeeper, who if my club forked out a large sum for, I would be more than satisfied
.
Replacements from within
Sir Alex Ferguson may believe he could use one of the current second choice goalkeepers at the club, if the funds are not available to spend in the summer. Some Manchester United fans will probably not be too best please with this; however the faith will have to be kept in manager's decision.
Tomasz Kuszczak – 28 years old – 20/03/1982
The former West Brom goalkeeper is experienced at watching the Premier League from the bench, but not very experienced in playing in it. He has been a back up goalkeeper for both West Brom and Manchester United since coming to England in 2004.
He has made 26 appearances in five years at the club, and seems as if he doesn't get his chance now, he never will
.
Anders Lindegaard – 26 years old – 12/04/1984
Signed this month
from Danish side Aalesund, he has been scouted as a player with an
abundance of potential
. Not too much beyond that is known about Lindegaard beyond that, but he is:
"Lindegaard is also very strong as a shot-stopper. He is able to call upon excellent reflexes to protect his goal from shots inside the box. He can also use his big frame to make up ground and get across goal, especially from long-range efforts on target."
He has made 4 international appearances for Denmark, and if he impresses Ferguson sufficiently enough, he could possibly be the replacement he has had in mind all along.
Whoever Sir Alex does decide to select, i'm sure he has remembered the trouble he had in the late 90's/00's trying to replace such an important area of the first team. Whoever takes the number one shirt, will have big boots to fill, and that is a testiment to how good Edwin van der Sar truely is.
So that's my take on the current goalkeeping situation at Manchester United. What do you think of the article? Who do you think Manchester United should sign as a replacement?
Leave your comment below
.
Real Talk Football

www.twitter.com/RealTalkFB