Fabio Quagliarella aka Mr Wondergoal
One week ago, reigning World Cup holders Italy were eliminated from the 2010 tournament, after failing to qualify from their designated group, finishing embarrassingly bottom of their group which consisted of minnows New Zealand, perennial underdogs Slovakia and tricky South American side Paraguay.
The Azzurri crashed out with only 2 points from a possible 9, a woeful defence of their title, leading to
Marcello Lippi
accepting full responsibility and subsequently to step down.
Upon returning to Italy, the Italian press slaughtered the team, while fans likewise hurled abuse and scrutinised the players seemingly more so than any other nation; including the French and English.
The
scrutiny established
different reasoning and discussions to the Italian failures. Was is that the Italian team were too old; mainly relying on players such as 36 year old Fabio Cannavaro, 32 year old injury plagued Gigi Buffon, 33 year old Gianluca Zambrotta.
Or is that the coach had no idea what the best team was? Experimenting with the 4-3-3 formation in the first game, then switching to 4-4-2 in the second, when Lippi clearly should have had this known before he even took his team to South Africa.
The final notion that came up was that the Italian team just couldn't function effectively without key midfielder Andrea Pirlo, who was instrumental in the win four years ago, but has had a relatively poor season hindered by injury.
Despite these issues and damaging criticism of the Italian side, there was one shining individual who summed up the spirit and importance of the playing for their given national side, as well as producing the best Italian individual display at this World Cup, despite only playing for 45 minutes in the whole tournament. This being Napoli's 27 year old striker
Fabio Quagliarella
.
He made his mark in the shock 3-2 defeat to Slovakia, whereby the striker came on at half time for Gennaro Gattuso with the Italian's 1-0 down, and his influence was clear for all to see. His first impact was having a goal controversially ignored after the referee claimed that Liverpool defender Martin Skrtel had cleared his attempt off the line.
In addition to lifting his team, and causing the Slovakian defence all sorts of problems, he scored an absolute stunning strike to keep Italy slim hopes of a fight back alive.
The problem for him was simple, the rest of the Italian players were not up to his standard to match his desire and determination, subsequently sending Italy reeling towards a
3-2
defeat.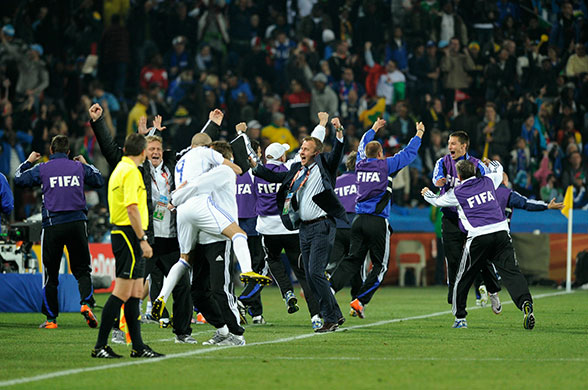 Upon the final whistle, scenes of elation erupted from the Slovakia bench while the Quagliarella took a knee and began to shed a tear at his nations defeat. As the Italian substitutes consoled the 27 year old, captain Cannavaro could also be seen getting emotional.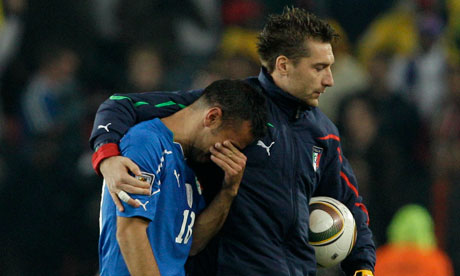 The key motive and lesson to be learnt from the Italian teams fall from grace, is that they still have one of the most overlooked and talented strikers in Europe, as a motive for new coach
Cesare Prandelli
to pair him with Gianpaolo Pazzini to build his new squad around.
Here's all the info you need:Name:
Fabio Quagliarella
Position:
Forward
Age:
27
Current Club:
Napoli
Previous Club:
Sampdoria
Career Apps:
235
Career Goals:
73
Int Apps:
21
Career Goals:
5
Although never the most prolific of strikers, Quagliarella is without doubt the wonder goal specialist, and an exceptionally gifted striker with excellent technique, pinpoint accuracy and a subsequent eye for goal.
He has now well and truly staked his claim for the number one striker in Italy thanks to his performance at this World Cup, noticeably for being a lot better than those of Alberto Gilardino, Vincenzo Iaquinta and Simone Pepe who let's be honest, will be too old for the next World Cup, and who were believed to be above Quagliarella in the pecking order.
Quagliarella, known for being somewhat of a Journeyman in Italy, may not need to settle down with one single club, but he will definitely need to settle down and establish himself into the national team since the Italian nation are waiting for someone to come and rescue them from their troubled times, and Quagliarella will need to grasp this opportunity with both hands.
Take a look at some of his unbelievable goals belowReal Talk Football