A storm is brewing in Brazil regarding a young striker who is destined to light up the football world, and not for the first time this year.
Three months ago, the Brazil coach at the time Dunga received widespread criticism from the Brazilian faithful, as well as respective media and football pundits alike who demanded that a striker with a record of 41 goals in 77 appearances for his club side in two seasons, should be one of the first names on the squad list to the World Cup.
The name on everyone's list was 18 year old
Neymar da Silva
of Santos, who has had a phenomenal second season, scoring 27 goals in 32 appearances, gaining him to be likened to both Ronaldo and Robinho, as well as an inevitable comparison to Brazilian great Pele.
The uproar was caused for the fact that stars of yesteryear, including Pele who made his debut as a 17 year old at the 1958 World Cup and Ronaldo was a member of the 1994 World Cup Winning side; aged just 17 and it was believed that Neymar was more than worthy enough of heading to South Africa. However the more philosophical management methods of Dunga favoured Wolfsburg's Grafite and Villarreal's Nilmar instead, with Brazil going onto South Africa 2010 crashing out to Runners-up Holland in the Quarter-finals.
Subsequently the World Cup passed, with it being abundantly clear that Brazil's problems were more of the defensive nature rather than the attacking options, it remains to be seen what impact, if any, the 18 year old could have made.
With this all swept under the rug, the attention shifted from national team selection to the ability and onto the player itself. So much so, that last week it was confirmed by Santos itself that English Premiership and FA Cup champions
Chelsea had made a formal approach and a transfer offer
, believed to be in the region of £17-18million.
Santos subsequently rejected this bid, stating that they are not open to negotiations. More uproar occurred, with the boy's
father
slamming the club for seemingly dismissing the
bid
without as much as a conversation with the
Brazilian star or his representatives
.
So this is a brief insight into the background to the transfer saga that is undoubtedly one of more intriguing transfers of the summer while it remains to be seen whether the West London club will indeed dig deeper into their pockets and consider paying a touted £25million fee for the 18 year old.
Watch the video below to see the undoubted ability of the youngster
Here's all the info about latest prodigy coming from the Santos team:
Name:
Neymar da Silva
Date of Birth:
February 5, 1992
Age:
18
Place of Birth:
Mogi das Cruzes, Brazil
Club:
Santos
Position:
Winger/Striker
Career Apps:
77
Career Goals:
41
Compared to his current team mate Robinho, best suited to a 4-2-3-1 formation attacking from a wide position and taking attempts on goal. A pacey individual with an eye for goal, he is always willing to shoot on sight. Blessed with technique in abundance as well as the Brazilian samba flair it will only be a matter of time before he follows the like of Pato and Robinho and heads off to Europe.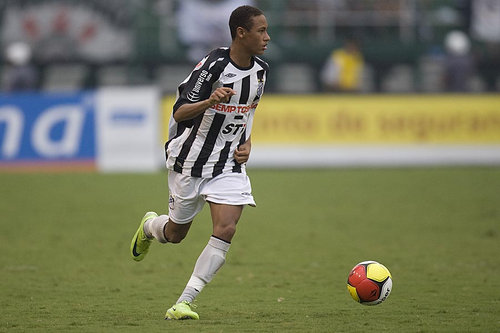 For more on the youngster, read the
Sky Sports News Scout
, watch the video below and follow Real Talk Football on twitter
@RealTalkFBReal Talk Football