Joe Cole – From: Chelsea To: Liverpool – Fee: Free Transfer
News Story
Age:
28
Position:
Attacking Midfielder
Nationality:
English
Interest:
9/10
This, so far, has been the most captivating transfer of the window, mainly due to the fact that English double champions Chelsea just pushed the talented 28 year old to one side without so much as a second glance. Available on free, he found his best and most financially rewarding offer from Roy Hodgeson's new look Liverpool side, supposedly turning down the likes of Arsenal and Tottenham. He will wear the "legendary" number seven shirt at Anfield and will undoubtedly be a better replacement for both Yossi Benayoun (who left for Chelsea) and Albert Riera (who has spent the last 6months rotting in the Liverpool reserves.)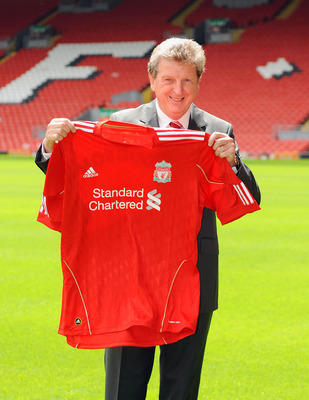 Eduardo Da Silva – From: Arsenal To: Shaktar Donetsk – Fee: £6millionAge:
27
Position:
Striker
Nationality:
Croatian
Interest:
9/10
This one hasn't been completed just yet, but is expected to be confirmed within the next 24hrs. The 27 year old Brazilian born striker has spent 3 years at Arsenal, and after a promising start, his blossoming career was derailed by a serious double leg break in February in 2008. After more than a year out, he struggled to find his previous form, failing to break back into the starting line up and more importantly failing to find the back of the net. Now, despite signing a new contract in November 2009, he is now on his way to start afresh in Ukraine with Shaktar Donetsk (pending a medical). The subsequent response from all Arsenal fans is a positive one, wishing the former Number 9 all the best, while this decision is best for all parties.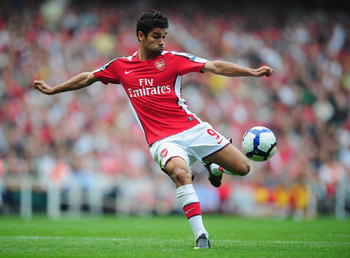 Pedro Leon – From: Getafe To: Real Madrid – Fee: €10million
News Story
Age:
23
Position:
Right Winger
Nationality:
Spanish
Interest:
3/10
The talented young wingers transfer may have slipped under the radar for some, but he is a very smart signing for Jose Mourinho's Madrid side. The tricky technically gifted winger will provide some much needed balance to the Madrid side, and should provide ample backup for Cristiano Ronaldo, as well as slotting into the 4-3-3 system if needed.
Adriano – From: Sevilla To: Barcelona – Fee: €9.5million
News Story
Age:
25 Position: Left Back/Right Back, Left Mid/Right Mid Nationality: Brazilian Interest: 3/10
The Brazilian signed from Sevilla, and is one of the most versatile and reliable players in the Spanish league. Adriano can play in four positions, making him the perfect utility man, and is perfect for Barcelona. He's transfer, also slipped under the radar, but has expressed his desire to get straight to work with Pep Guardiola, and continue FC Barcelona's recent success.
Angel Di Maria – From: Benfica To: Real Madrid – Fee: €25million
News Story
Age:
23
Position:
Left Winger
Nationality:
Argentinean
Interest:
9/10
Linked with a whole host of European clubs, and recently subject to a bid from Manchester United, the Argentine left winger had an excellent 3 years in Portugal with Benfica, leading him to command a €25million fee from the Madrid money bags. Added to the squad to bring balance to the side, however it seems was signed before Mourinho was instilled as manager, so it remains to be seen if the Portuguese tactician has any real motive to use the 23 year old, time will tell.
Adriano – From: Flamengo To: AS Roma – Fee: Free Transfer
News Story
Age:
28
Position:
Striker
Nationality:
Brazilian
Interest:
7/10
There was interest in the burly Brazilian ever since January, were AS Roma headed up a queue that included West Ham United, to sign the fallen star. After some time away from Europe, the 28 year old is looking to repay Claudio Ranieri's faith in him, and prove the critics that he can still cut it in the big time, perform at the highest level and maybe even get into the Brazil national team.
Simon Kj æ r – From: Palermo To: Wolfsburg – Fee: €12.5million
News Story
Age:
21
Position:
Centre back
Nationality:
Danish
Interest:
9/10
Well well well, the young defender who was linked with every major club in Europe, ended up preferring to ply his trade in a very physically and technically demanding league in Germany, with Steve McClaren's Wolfsburg. Despite having a poor World Cup, the signing is somewhat of a coup at just €12million, however he is very young and this should be a stepping stone to see how he develops for moving onto the best in Europe.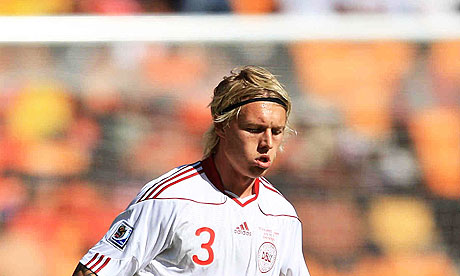 Edinson Cavani – From: Palermo To: Napoli – Fee: €16million
News Story
Age:
23
Position:
Striker
Nationality:
Uruguayan
Interest:
7/10
The Uruguayan international joined Napoli on the back of a very good World Cup, which saw him help his country to finish in 4th place in South Africa. After being heavily linked with Tottenham, the 23 year old joined the vastly improving Napoli side, to play along the likes of Marek Hamsik, Fabio Quagliarella and Ezequiel Lavezzi.
Stay tuned for more transfers and a lot more football news as we lead up to the new football season.


Real Talk Football