This weekend was a defining moment in the Premier League season, as with one week of matches left to play, West Ham's slim hopes of hanging onto their Premiership status finally evaporated as Avram Grant's side surrendered a 2-0 lead, and ended up losing 3-2 to relegation rivals Wigan Athletic. Hence condemning themselves to fall through the trap door and into The Championship. Relegation.
Consequently The Hammers sacked their manager less than an hour after the 3-2 defeat, four months to the day after Avram Grant was expected to be sacked (after the 3-0 defeat to Arsenal and replaced by Martin O'Neill). This was not to be, as O'Neill turned down the opportunity, and the owners left Grant with 14 remaining Premier League games to save West Ham from relegation.
The records for those 14 games were as follows: DWLDWWDLLLLLDL, 3 wins, 4 draws and 7 defeats. It's fair to say, relegation form.
What caused the Hammers downfall?
For me; an average manager. Avram Grant's record in the English football; is rather hit and miss. He took over from Jose Mourinho at Chelsea in 2007, and guided to West London club to their first ever Champions League final, which they lost on penalties to Manchester United. They then ended up as runners-up in the Carling Cup final, and ultimately runners-up in the Premiership as well.
Grant was then sacked due to his failings, receiving much criticism from fans, who claimed his side was boring, while Chelsea players were quoted openly criticising Grant's outdated methods.
After a year away from management, he took over at south coast club Portsmouth, replacing the sacked Paul Hart. Now he was managing a side that had massive amounts of financial trouble, legal wrangling and issues regarding ownership of the club. Despite all this, Grant led Pompey to the FA Cup final, where they were runners-up, losing 2-1 to Chelsea.
Despite the excellent cup run, Pompey finished bottom of the Premier League with 19 points (a 9 point deductions due to administration) and subsequently ended up in The Championship.
Next for Avram, was the West Ham job. He was appointed by new owners David Gold and David Sullivan, who decided to sack fan favourite, the man who saved them from relegation last year; Gianfranco Zola.
Avram Grant struggled to gain the confidence and admiration from West Ham fans, with his lack of tactical knowledge and any sort of game plan was evident at various points throughout the season. Grant seemingly gives off the impression as more of a motivator than a football coach.
Terrible signings in transfer windows
It's fair to say, all the troubles with West Ham begun when they were overtaken by Eggert Magnusson in 2006. During the Icelandic businessman's time at the club, he was executive and non-executive during his tenure, and infamously oversaw the signings of Carlos Tevez and Javier Mascherano (which were later deemed illegal due to third party ownerships and the club was fined for).
Players like Julian Faubert, one of the most promising French wide-men in recent years, was converted from a right back, to a right midfielder then back to right back again. He has failed to reach his potential since being at the club, and spelt an ill fainted loan spell at Real Madrid midway through his time at West Ham.
The next name to highlight was Freddie Ljungberg, was one of the worse signings, who was given a four year contract despite his well documented problems, and big wage demands. After one year, this contract was terminated, for a sum believed to be around £6 million.
Kieron Dyer; another injury prone player with big wage demands. According to
one source
, he earned £83,000 a week, £424,000 a season in image rights, and £100,000 in loyalty fees. During four seasons at the club, he has only played 30 times. Absolute shambles.
Diego Tristan, 3 goals in 14 games, and Davide Di Michele, 4 in 30 games, were brought in for the 2008/09 season and justified their wages helping the club reach 9th place in the league, performing brilliantly under Gianfranco Zola and assistant manager Steve Clarke.
After the fantastic 08/09 season, Gold and Sullivan took over half way through the 2010 season, and this marked the start of a resurgence in West Ham's problems. Three signings on the last day of the January transfer window displayed a sign of things to come. Benni McCarthy, Ilan and Mido.
Mido was a well known flop on these shores, and was reportedly only paid £1,000 a week. A bargain? Not really, he only played nine games, and didn't score a single goal.
Ilan came to England with his best year's way behind him. His goal return was okay, scoring 4 in 11 games, but injuries and open criticism of the manager Gianfranco Zola, it was clear Ilan's time in England was going to be a short one, and displayed another example of a poor signing backed the West Ham board.
Benni McCarthy was one of the most impressive strikers in Europe during the early 00's, but his career was in decline during the latter period of his career at Blackburn. At the age of 31, he joined West Ham for £2.5 million and will go down as one of the worst transfers in Premiership history. He racked up just 14 appearances in one year, was persistently fined for being overweight, left out of the 25 man Premier League squad list for this season, and never scored a single goal for the Hammers. He was reportedly paid £38,000 a week, and was on a two and a half year contract.
His contracted was terminated in April
.
This poor calibre of signings continued this season, such as loan signings Wayne Bridge and Robbie Keane who both failed to make an impression, looked more interested in there bank balance rather than the fate of the club. Subsequently it ended up with the Hammer failing to learn their lesson, and they've consequently ended up paying the ultimate price.
Honourable mentions
With Scott Parker winning the Football Writers Player of the Year Award, it's evident that his sensational performances this season where the only reason the Hammer lasted as long as they did. Parker pretty much carried the team for much of the season, while his inspirational captaincy and work ethic rubbed off on fellow players.
Mark Noble is another player who can hold his head up despite the despair at Upton Park, along with January signing Demba Ba, who has shown he can definitely score goals at this level.
Valon Behrami, Kieron Dyer, Julian Faubert and Luis Boa Morte are all players who will certainly need to be offloaded in order to clear the wage bill.
Matthew Upson, Fredric Piquionne, Demba Ba, Thomas Hitzlsperger, and regrettably Scott Parker are expected to leave the club, as top flight clubs will be interested in this batch.
It remains to be seen whether Robert Green will leave the club, as it seems there may not be a large queue of suitors for the 31 year old as first thought, as his high profile errors have somewhat reduced his value.
The likes of Jonathan Spector, James Tomkins, Jack Collison, Zavon Hines, Carlton Cole and Freddie Sears should all stay at the club and prove their worth, not only owing it to the fans but at the very least to themselves.
Finally, the reason this is such a important issue and that big of a disappointment is because West Ham are a club ingrained in proud tradition and football history, and despite not being a main stay in the English top flight, its owed to their great fan base that they are rewarding with an excellent manager who has a point to prove himself and improve the state of affairs at the club, and most importantly take the Hammers back into the Premiership.
As for now, disappointingly for these great West Ham fans, it's no less that then the clubs owners deserve with their shoddy control of the club.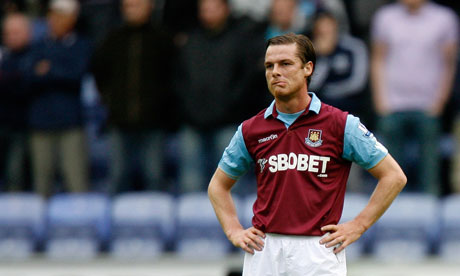 Who do you think will take over at West Ham? Do you think David Gold and David Sullivan have been detrimental to West Ham's cause? Leave a comment below and let me know what your thoughts are
Real Talk Football