This weekend, Serie A round 36 commenced in Italy, on a warm spring evening in Rome, AC Milan took on AS Roma knowing that thanks to their hefty eight point cushion between them and closest rivals Internazionale, just a solitary point was all they needed to take away from the Stadio Olympico in order to
wrap up their first Serie A title in seven years
.
Milan went on to draw 0-0 with Roma, completing their task in very Italian fashion, doing all that's necessary in order to ascertain the result. This point gave them a 9 point lead ahead of rivals Inter, and subsequently wrapped up their 18th Scudetto.
The match itself was an entertaining spectacle with standout performances from Roma defender Juan, and AC Milan goalkeeper Christian Abbiati, who made very important saves during the 90 minutes.
However one of the most impressive stat to come out of Milan's triumph was that 29 year old striker Zlatan Ibrahimović becomes the first player to win
eight league titles in a row
and more impressively he has done it with five different clubs (four if you're excluding the
Juventus scandal
). A phenomenal achievement.
Ibrahimović is quintessentially one of those players who if he is playing against your club, you hate him, or if he's playing for your club, you love him!
Another interesting note is that Ibrahimović seemingly gets no admiration from Football pundits,
legends
or fans outside of Italy, Sweden or Holland. Some fans believe he's "
a lazy individual
", a "
showboat
" or "
one trick pony
" and fans fail to take a shine to the Swedish, mainly because of his arrogance. Alternatively, some fans believe him to be one of the best strikers in the world, and his ability, and medals tally supports this theory.
They say that in order for a striker to be considered great, they must have a degree of selfishness, arrogance and of course the ability. Zlatan has these three elements in abundance, as well as the titles to back this.
Ibrahimović is two inches shorter then Peter Crouch (6ft 5in), but isn't slow by any stretch of the imagination, as he has acceleration, pace and a fantastic balance. He has great shooting technique, power and can ping the ball with either feet. A man with his height, of course is great in the air, but has great flair and dribbling technique with the ball on the ground. Finally his control and first touch are second to none, and his technique is astounding. For me, he has all this ability and is almost the complete striker.
His talismanic influence on the clubs he has been at, is testament to how much of a quality player he is. Since turning professional aged 18, at the time playing for his local side Malmö in Sweden, he has gone on won 16 major honours with four/five different clubs (Ajax, Inter Milan, Barcelona, AC Milan and Juventus; if you're counting the
Calciopoli incident
). He has also won 16 individuals titles since turning professional.
Since Ibrahimović left AFC Ajax in 2004, in a spell that was littered with controversy (
having a pair of scissors thrown at him by team mate Mido
) and the
brilliance
. Subsequently the Dutch giants haven't won an
Eredivisie
title since then. Of course Ajax will win another league title, but the influence of Ibrahimović in that side, lead them to winning the title was undeniable.
At Juventus he won two Serie A titles, which were
consequently revoked due to the Calciopoli match fixing scandal
. Nothing of which, was to do with Ibrahimović surely? Absolutely not. He still went on to the field week in, week out, notching up 26 goals in 91 games over two seasons. His change of play changed, and was more of an attacker rather than an out and out striker.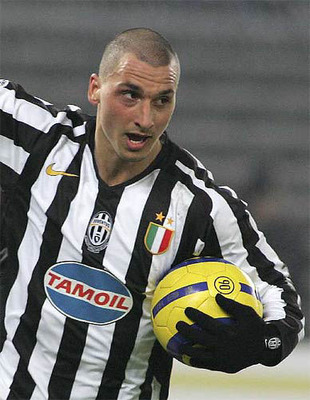 At the start of 2006/07 season, he joined Inter Milan, and despite the lack of competition due the bans handed out by the Italian Football Federation due to the Calciopoli scandal, Inter Milan
won three
titles in a row with Ibrahimović leading the line.
His excellent performances for Inter Milan caught the attention of Barcelona, who was looking for that central striker to play as part of their three pronged attack. So he
joined in a transfer
worth around €66 million in exchange for Samuel Eto'o and Alexander Hleb, plus a transfer fee.
He was widely criticized during his time at FC Barcelona, despite scoring 16 goals in his first season and the
winner in El Clasico
. He won five trophies in one calendar year. Barcelona was a juggernaut and was unstoppable at the time, and Ibra was unlucky not to win the Champions League trophy.
After his 13 month stay in Spain, his relationship with manager Pep Guardiola declined, twined with criticism from the press and fans, he left him seeking a new home.
So he took his bag full of medals, and jetted back to Italy, some would say his second home. He joined AC Milan on a season long loan with an agreed
transfer
of €24million.
AC Milan hadn't won a title since the 2003/4 season, and boss Massimiliano Allegri brought in the big guns, Robinho on loan from Manchester City, Antonio Cassano from Sampdoria and of course Ibrahimović from Barcelona.
Milan lead from pretty much the start of the season, and Ibrahimović was
inspired form
, adding to his array of
sensational goals
and assists. He's leading the clubs goal scoring chart this season with 20 goals in 40 appearances (with two games remaining). A stimulating signing, which gave the desired results and Milan's first piece of silverware since 2007.
Over his career, his transfers have totalled at a sum of more than €138million. He has scored a believed 200 goals in 429 appearances. He has also won 66 caps for Sweden scoring 25 goals, and is the national team captain.
Here is his list of awards:
Ajax
- Eredivisie 2001/02, 2003/04
- KNVB Cup 2001/02
- Johan Cruijff Shield 2003
Inter Milan
- Serie A 2006/07, 2007/08, 2008/09
- SuperCoppa Italiana 2006, 2008
Barcelona
- La Liga 2009/10
- Supercopa de Espana 2009, 2010
- UEFA Super Cup 2009
- FIFA Club World Cup 2009
AC Milan
- Serie A 2010/11
Juventus
- Serie A 2004/05, 2005/06 (both revoked)
If you think I'm overrating the Swedish international, then I'd advise just taking 10 minutes to check out some of his unbelievable goals. I guarantee that if you're sitting on the fence in your opinion over Ibrahimović, then your opinion will alter to either to joining the masses the either loving or hating Ibrahimović.
Either way, Ibrahimović's track record, the facts, figures and footage of his goals prove that he is great player, and the matter of whether he is overrated, is surely a
matter of opinion
.
What are your thoughts on "The Magician"? Do you think his criticism is justified? Do you think he is a great player, or just one who was at the right club at the right time? Leave a comment below and let me know what you think
Real Talk Football