The line-up for the Champions League final has been confirmed for the past two weeks, and Wembley stadium is all set to host the two biggest clubs in the world, for the most coveted prize in football.
On the 28th May Manchester United will take on FC Barcelona in North London, both teams vying for their fourth European Cup.
There are lots of exciting match ups all over the pitch, including: Xavi and Iniesta vs. Manchester United's two or three man midfield. Ferdinand and Vidic vs. Messi, Villa and Pedro. Seeing how pantomime villain Segio Busquets handles the movement and creativeness of Wayne Rooney. Even in form striker Javier Hernandez against Barcelona icon Charles Puyol.
It's intriguing, and the list could go on forever. No one is doubting that this is the best final available, and the two top teams in the world, with one of the greatest managers of all time against a steady rising manager, who is on his own path to etching his name into Football folk law as one of the greatest of all time already.
The main protagonist for Barcelona this season, as usual, has been the World Player of the Year Lionel Messi. His goal scoring record in the Champions League tells only half the story of his influence on this Barcelona side. He has hit 11 goals in 11
Champions League appearances
, but his all round performances have driven this Barcelona side forward.
The 23 year old has 49 goals in all competitions this season, coming from 51 appearances. The man who joined
Barcelona aged just 13 years old
from Argentinean side Newell's Old Boys, after Barcelona had taken the
youngster from the poverty ridden streets of Rosario
, took him to Europe, and paid all his expensive medical bills (
due to him being diagnosed growth hormone deficiency and threatened to halt his career
) in order for him to sign with the club.
He was seen as one of the brightest talents in World football, and he has repaid Barcelona back in kind, with him not only considered as the best in the world, but he's establishing himself as one of the
best players of all time
.
Already with 5 La Liga titles, 4 Spanish Super Cups, 2 UEFA Champions League medals, a UEFA Super Cup, a Copa Del Rey and a FIFA Club World Cup under his belt, not to mention over 40 individual accolades, Messi is could undoubtedly be the difference maker on the grandest stage.
The main men for Manchester United have been Goalkeeper Edwin Van Der Sar and Centre-back Nemanja Vidic. These two have played 8 of the 12 possible Champions League, helping them achieve the best defensive record in the tournament, only conceding 3 goals. In those eight games, Manchester United have kept six away clean sheets, making them the first ever team to do so, and subsequently Sir Alex Ferguson's side have not conceded away from home all competition.
Van Der Sar has previous in this competition, winning the title in 1995 with Ajax, and was a runner-up a year later with the Dutch club. He of course won it in 08' with Manchester United, saving Nicolas Anelka's penalty in the shoot out and collecting his second Champions League title. A year later, he was between the posts for the 2009 final 2-0 defeat to Barcelona.
Two time winner, two time runner up. Will is be third time lucky, or unlucky?
Club captain; Nemanja Vidic has been a focal point of the Man United back four for the past four years. He is widely considered as one of the best Centre-backs in the world, and will be playing in his third Champions League final with the Red Devils.
Vidic plied his trade in Russia with Spartak Moscow after establishing himself through the Serbian Red Star Belgrade youth system, turning him into a no nonsense one man wall who takes no prisoners on the football pitch. By any means necessary, Nemanja Vidic gets the job done. Sir Alex Ferguson lamented defensive mistakes as the clubs downfall in their last Champions League final, and he will need to be at the top of his game if he is to stop this free flowing Barcelona attacking side.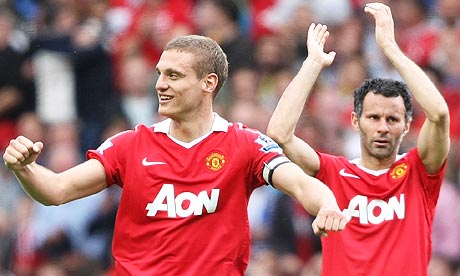 The Line-up
Now, there are three major questions regarding the two line ups on this game.
Firstly, whether Darren Fletcher is fit enough for this game. The news today was that he trained away from the main group of players, with the likes of Bebe and Obertan, so there is real talk of him being on the bench for this game. So my pick would be Giggs, Carrick and Park as a three in midfield, with Valenica on the right, Rooney dropping from the forward position to play slightly left, and the explosive Hernandez up front. Fabio gets my shout at right back ahead of O'Shea.
The second question is whether Rooney and Hernandez will partner each other up front as a pair, or with Rooney playing off the Mexican, and moving to the left, or with Rooney playing as the sole striker and/or Nani playing left wing, or Anderson playing in the centre midfield. So many decisions, I asked four Manchester United fans, and none of them came up with the same staring XI.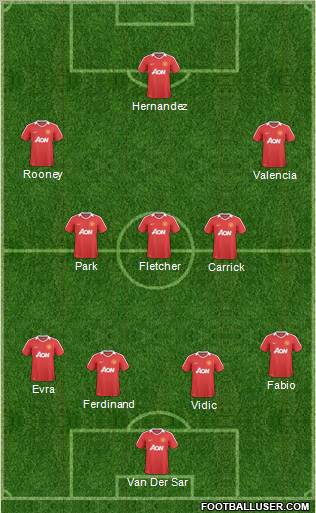 The final question mark over this game is regarding Eric Abidal. If Pep Guardiola deems him not ready for this huge game, Puyol will play left back, just as he did so well against Real Madrid. Mascherano has been playing centre back recently, and according to Revista de La Liga, he is expected to partner Gerard Pique, with Busquets's playing in his more familiar midfield role.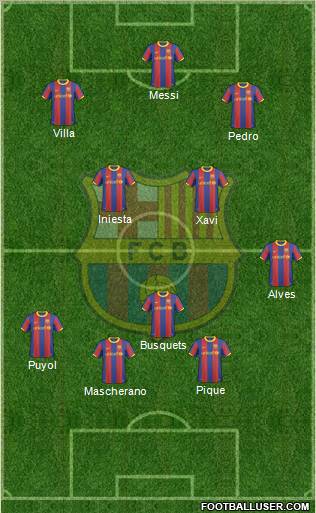 The Stats
Manchester United won their first European Cup in 1968, at Wembley Stadium.
FC Barcelona won their first European Cup in 1992, also at Wembley Stadium. A 21 year old Pep Guardiola, featured in the win. He of course, is now Barcelona manager.
Sir Alex Ferguson will be looking to win his third Champions League title, putting him level with fellow football managing great, Bob Paisley.
Lionel Messi has 11 goals in the Champions League this season; he needs just one more equal Ruud Van Nistelrooy's record for most scored in a single campaign.
Edwin Van Der Sar will be the oldest winner of the Champions League should Manchester United be successful this Saturday, surpassing AC Milan legend Paolo Maldini.
Carlos Puyol will make his 101st Champions League appearances, playing in the final this Saturday.
Whoever wins this game, will win their fourth Champions League title, taking them level with AFC Ajax and FC Bayern Munich.
This is the third straight final featuring two domestic champions. Barcelona won La Liga and Manchester United won the Premiership respectively.
All stats via
Goal.com
,
ESPN.com
and others
online
sources.
This is Manchester United's third Champions League final in the last four years, and Barcelona's third in the last six years. Football biggest competition, is taking place on the biggest stage, Wembley; the home of football, and one of these two brilliant with leave London as the champions of Europe.
Who do you think will win the Champions League Final? Cast your vote in our poll, and leave your predictions below.
Real Talk Football