Group C
Bruno Ecuele Manga, Gabon's uncompromising centre-back
Best finish: Quarter-Finals 1996
Key Man: Bruno Ecuele Manga
The 6ft 1in centre-back is one of the most promising defenders in French football, currently playing for Ligue 1 side Lorient. He was signed in 2010 from Ligue 2 side Angers as a replacement for Arsenal bound Laurent Koscielny. A dominating and intimidating presence at the heart of the Gabon defence, he's set for a key role in the side.
Coach: Gernot Rohr
The 58 year old German has more than twenty years managerial experience in French football, with a small stint in Tunisia and Switzerland, so it was a perfect fit for him to take charge of the French speaking nation since February 2010. The side are nicknamed "The Panthers".
Qualification process: Co-hosts
Previous appearances: 4
Fixtures:
Vs. Niger – 23/01/12
Vs. Morocco – 27/01/12
Vs. Tunisia – 31/01/12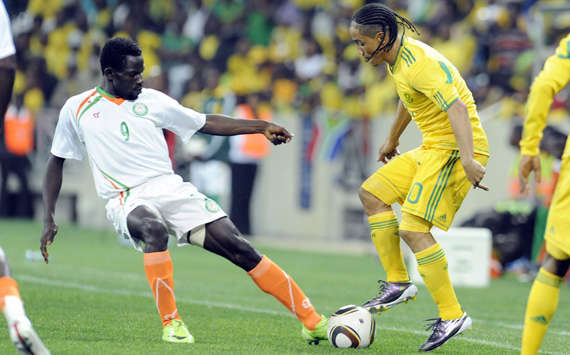 Best finish: First time qualifiers
Key Man: Kassaly Daouda
The 28 year old goalkeeper will be in for a tough time at the tournament and will have to be on point from the opening game against co-hosts Gabon. He plays for Cameroonian side 11 time domestic league champions Coton Sport, and has over 50 International caps.
Coach: Harouna Doula Gabde
Highly disciplined manager, who is seen as a motivator who relies on hard work and discipline from his team. His side edged into qualification with a better head-to-head record than their rivals despite topping the group with the worst goal difference in the group.
Qualification process: Group G Winner
Previous appearances: 0
Fixtures:
Vs. Gabon – 23/01/12
Vs. Tunisia – 27/01/12
Vs. Morocco – 31/01/12
Morocco
Best finish: Winners 1976
Key Man: Marouane Chamakh
The Arsenal forward has had a poor twelve months at the North London, after initially impressing. He is shot of confidence, and cannot catch a break. With the sensational form of fellow striker Robin Van Persie, he has found himself a serial bench warmer. He says he's willing to wait for his chance at Arsenal, but needs first team football. So this tournament is a perfect chance to rebuild some confidence and return to Arsenal in the same vein of form he had when he joined for Bordeaux in summer 2010. The 28 year old has 17 goals in 59 appearances for the "Lions".
Coach: Eric Gerets
The well respected Gerets, 57, is well travelled, having coached all over Europe, including Championship winning spells in Holland and Turkey, as well as successful spells in Germany, and his native Belgium.
Qualification process: Group D Winner
Previous appearances: 13
Fixtures:
Vs. Tunisia – 23/01/12
Vs. Gabon – 27/01/12
Vs. Niger – 31/01/12
Issam Jemaa, Tunisia's top goalscorer
Best finish: Winners 2004
Key Man: Sami Allagui
The pacey striker plays for Bundesliga side Mainz, and is expected to get the goals for the "Eagles of Carthage". Paired up front with Tunisia's all time top goal scorer Issam Jemaa, they could help reach the heights they reached in 2004.
Also watch out for impressive defenders Karim Haggui of Hannover, and Aymen Abdennour of Toulouse.
Coach: Sami Trabelsi
His first managerial job taking over in March 2011. What the 43 year lacks in managerial experience, he makes up for in professional experience. As a centre-back, he made over 50 appearances for Tunisia, and appeared at the 1998 World Cup.
Qualification process: Group K Runner-Up
Previous appearances: 14
Fixtures:
Vs. Morocco – 23/01/12
Vs. Niger – 27/01/12
Vs. Gabon – 31/01/12
Remember to vote in the poll, and let me know who you think will win the African Cup of Nations.