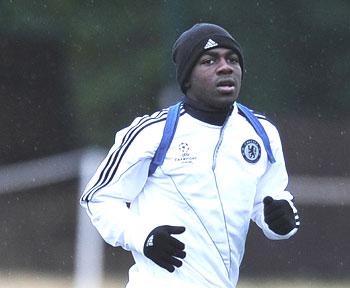 Number 2 on our list, counting down 5 best young players in the World is Chelsea's controversial signing
Gael Kakuta
.
Here's all you need to know:
Name:
Gael Kakuta
DOB:
21/06/1991
Age:
18
Height:
5ft 7in
Nationality:
French
Position:
Attacking Midfield/Left Midfield
Previous Clubs:
RC Lens
Current Club:
Chelsea
Shirt Number:
44
Gael Kakuta is seen as one of the brightest talents in Europe, let alone French and his transfer to English side Chelsea, caused them all sorts of headaches. His controversial move to Chelsea came because
RC Lens
claimed the 18 year old had breached his contract in signing with the two time Premiership champions. The
FIFA Dispute Resolution Chamber
found in favour of the French side and subsequently fined
Kakuta €738,000 and banned him for 4 months
. Chelsea were fined €130,000 payable to Lens and banned for two transfer windows. However the
Court of Arbitration for Sport
overturned the decision
after Chelsea's appeal. Anyways enough of the legal talk, lets look at what the 18 year old has to offer.



Kakuta has an excellent first touch, strength and creativity. But most impressively is the attackers dribbling technique that is similar to that of Ronaldinho's, short, fast and powerful. The French youth International has represented his nation at Under 17, 18 and 19 level, and is fully expected to go onto represent France at the highest level.
Surely Chelsea wouln't go through all this trouble, if the youngster wasnt truely worth it. Lets just wait and see...