As we enter the final third of the football season, its clear that there are many teams still in the hunt for their respective domestic league honours. Players will be willing to give there all in order to attain a spot on the plane to South Africa.

This post is a look at the title races going on in and around Europe, and the key players involved.
First up is the English Premier League, whereby as things stand right now, its a three horse race for the title, between Arsenal, Chelsea and reigning champions Manchester United. Only four points separate the top 3 and competition is fierce. With Chelsea's exit from the Champions League, they have less games to concentrate on, however they still have the prospect of a double this season. With 7 games remaining, all managers believe it will go down to the wire, and I wholeheartedly agree.
Manchester United - Current Position: 1st - Key Man: Wayne Rooney
Sir Alex Ferguson's side have to still face Chelsea, Tottenham and rivals Manchester City in the run in, but with one of the deadliest strikers in the World at the moment;
Wayne Rooney
, he could lead the Red Devils to a record 19th League title. All eyes will be on the Englishman.
Arsenal - Current Position: 2nd - Key Man: Cesc Fabregas
The team from North London were written off at the start off the season, mainly due the sales of Emmanuel Adebayor and Kolo Toure, however boss Arsene Wenger has instilled belief and courage throughout the side, which gives them as good an opportunity as any other to pick up some silverware. All eyes will be on star midfielder, and club captain, Cesc Fabregas who has 18 goals in 33 games with 15 assists.
Carlo Ancelotti's side have struggled in March however they are still very much in the race for the title, with a game in hand, as well as no more tough Champions League matches, that may be a blessing in disguise. Striker
Didier Drogba
is definately one of the most feared strikers and can drag the blues to the title, with the help of the in form Florent Malouda, the underrated John Mikel Obi and the ever dependent Frank Lampard.
Who do you think will win the title?
Next up is La Liga, where the Spanish teams have spent a lot of money this season, no more so than Real Madrid, who forked out a whopping €250million. Its a two horse race at the top, with superclubs Barcelona and Real Madrid joint at the top,
leading 3rd place
Valencia by 18 points. Only 11 games to go, all eyes on 11th April for "El Classico" at the Santiago Bernabeu.
Suprised I didn't say
Cristiano Ronaldo
? Well check out the
Higiuan post
and you'll understand why! Don't get me wrong CR9 will be a vital factor, but Higuain has been on fire this season. Real, out of the Champions League, have the advantage with just 11 remaining league fixtures for them to solely concentrate on. The importance of Sergio Ramos, the playmaking skills of Xabi Alonso and the magic of Ronaldo have sured up Real's title chances.
FC Barcelona - Current Position: 2nd - Key Man: Lionel Messi
Barcelona have just as good a chance to win the La Liga crown, and retain the Champions League, however they face a tricky task of facing English side Arsenal, and must go to Real Madrid's stomping ground and come away victorious. Striker Zlatan Ibrahomovic has been rather hit and miss this season, but scored a few important goals, along with the young winger
Pedro
chiping in with 7, Thierry Henry with 3, but the main man and undoubted superstar is Argentine forward Messi. Back to back hat tricks in the League against Valencia and Real Zaragoza, plus 2 against Stuttgart in the Champions League, has led to
Barca President, Joan Laporta calling him "
the best player in history"
.
Can he take Barca to the double?
Who do you think will win the title?
One of the most boring leagues in Europe? Overrated? Tactical and defensive? Some of the many statements used to describe the Serie A in the last few season, however thanks to a resurgance at AC Milan and with Claudio Ranieri's Roma, player contract disputes, the terrible form of Diego and Juventus, plus the added relegation fears of SS Lazio all have mixed up the league and made it very very interesting. Oh yeah, lets not forget about that "bloke" Mourinho... After blowing a 7 point league, Inter are only top of the league by one point, from AC Milan and 4 points from AS Roma, with 8 games to go.
The man who pulled the strings against Chelsea and cause them all sorts of problems, is fastly becoming the key man at the Inter side of the San Siro, along with striker Diego Milito. However in the past month it seems Mourinho's side focus on the Champions League has led them to drop valuable points and lose their grip on the Scudetto. Mourinho's side need to fix up and not look to the Champions League Quarter-Final against CSKA and concentrate on getting Eto'o, Stankovic and
Pandev
to maintain their
domestic dominance
.
AC Milan - Current Position: 2nd - Key Man: Ronaldinho
After a really poor start to thier Serie A challenge,
Ronaldinho
and co are mounting a serious offensive for the title, however they have been a big blow losing both
David Beckham
and
Alessandro Nesta
to injury. But with the returning Alexandre Pato, maybe AC could actually knock Inter off of thier throne.
AS Roma - Current Position: 3rd - Key Man: Luca Toni
What is there to say about
the "tinkerman" Claudio Ranieri
? He was ousted from Chelsea and kicked out of Juventus and now he has manage a mini miracle at Roma. He has led to the Romans being just 4 points from Inter and at the very least a certainty to achieve a Champions League spot, and a return, next season. January signing Luca Toni has scored 4 goals in 7 matches although he has struggled to settle in thanks to a knee injury, but he is finding his feet back in Italian football. With goalie Julio Sergio performing well, John Arne Riise finding a new found love for football and Talisman
Francesco Totti
, they could be the dark horses.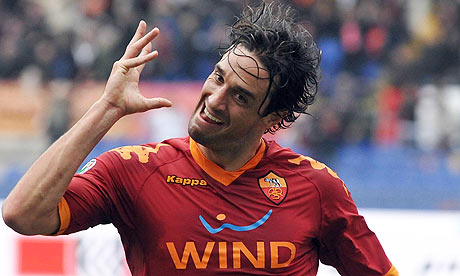 There the "Big Leagues" but here is quick insite to the other leagues around Europe. In Holland: with 6 games remaining,
former England Manger
Steve McClaren's
FC Twente lead
former Champions League winners AFC Ajax by 4 points, with PSV 1 point behind them and the McClaren's side are in pole position to win the Eredivisie after finishing second last season.
In France, its clear that this lead is without doubt the most exciting in Europe, with as many a six teams
battling it out for the Ligue 1 title
. With 10 games left, Girondins de Bordeaux and suprise package
Montpellier
are joint top with 56 points, Auxerre are 1 point behing with 55, Marsielle have 53, while Lille and Lyon sit 5th and 6th respectively with 51 points. Expect a very exciting finish to the season, with the added spice of Lyon facing Boredeaux in the Champions League Semi-Final aswell. All to play for...
Thats my comprehensive round up of the Big Five leagues in Europe and a look at the Key Men involved. For more search Real Talk Football in google and get the Twitter or Facebook Page.
Remember to comment and let me know who you think will collect silverware this season.