Manchester United, arguably Britain's most loved, and at the same time revered, football team; who currently sit atop of the Premier League and are billed as the favourites to lift the title for a record 4th time in a row, as well as United's 19th league title, which will make them the most successful club in English history.
Here's why I feel so many people believe United are favourites
Players standing up and being counted
With the departure of Cristiano Ronaldo, sorry to bring up old news but such a great player which took Man Utd to the Champions League title cannot be ignored, many thought the Red Devils would surrender their title without such a whimper, with to the likes of Chelsea and Liverpool waiting to pounce. How those people were wrong. Many of the so called "fringe players", or unappreciated squad player finally stood up and helped Wayne Rooney fill the shoes of the former World Player of the Year. Antonio Valencia, whose form someone took a slump in the middle of the season, stepped up to the plate and put it some very good performances at the start of his United career, and more recently in the later stages of the Champions League, whereby the Columbian collected 7 assists, many of them finding the head of striker Rooney.
Underrated Midfielder Darren Fletcher has received many plaudits in this season, mainly for his excellent work rate and stamina. The Scotsman once branded "Fergie's Son" just because he was in the squad has kept the likes of Carrick, Anderson and up and coming midfielder Darron Gibson on the bench, and himself becoming one of the most important clogs in United machine.
Experience
In Basketball, teams have the "6th man" who comes off the bench and changes the game, Man United 6th man is that of experience. The balance between youth and experience at Manchester United is just right, with players such as Paul Scholes (35yrs old), Gary Neville (35yrs old), and the evergreen and most decorated player in Premiership history, Ryan Giggs (36yrs old) all still proving valuable assets on and off the field.
The Back Five
Although not as strong as they were in previous season, with Nemanja Vidic having injury problems, along with off the field speculation regarding a summer transfer to Real Madrid, and England Captain Rio Ferdinand having back problems and disciplinary problems, the likes of Wes Brown and Johnny Evans have stood up to be counted when need (check the 3-1 win over Arsenal). At right back Gary Neville has been sloppy sometimes, but Rafael Da Silva has performed admirably, while that man again Wes Brown has filled in when and where needed. With Hargreaves and utility man John O'Shea spending most of the season injured, it's clear that the key man defensively is that of the solid and arguably best left back in the world, Patrice Evra. The full back leads by experience, gives his all for the team, and is blessed with having all the qualities to be a top class player, and a future United captain.
Rooney factor
26 league goals in 29 appearances, 33 in all competitions. What more to say? Read my post
here
, but he has been a MAJOR factor for United.
Finally Sir Alex Ferguson, who has been the Manchester United manager for 24 years, has done and seen it all, and his experience is unlike any other. Time will only tell when he is content with winning and calls it a day, however for now, he wants to reach title number 19.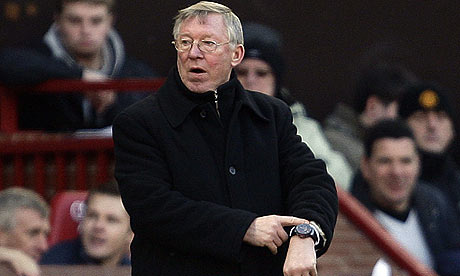 Do you think Manchester United can win the title? Do you agree with this article? or Do you believe another team will win the title? Click follow, sign up and then leave your comment