The Bulgarian striker joined Manchester United after a summer of speculation and tabloid rumours regarding his desire to move to a the Red Devils, claiming it would be his "Dream Move". Berbatov, then aged 27 years old,
cost Manchester United
£30.75 million, signing a four year deal.
Since this move, the jury has definitely been out on the striker. There is no doubt he is an exceptionally gifted player, with sublime technique and ability, but questions regarding his attitude, commitment and enthusiasm is something which has surrounded him his whole career at Old Trafford.
Undoubtedly he dreamed of playing for Manchester United; evidently clear in him forcing the move from Tottenham. However it seems the £30million price tag is something which had hindered his performances in the red shirt. That is up until now.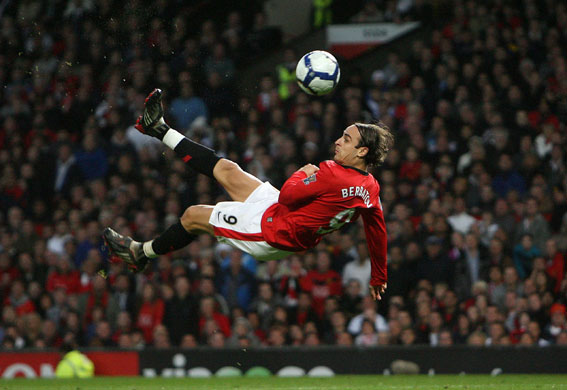 I remember I went to an
FA Cup game
between Fulham and Tottenham in 2007, and I remember Berbatov coming on with 20 minutes to go. Spurs were 2-0 up, and Berbatov, who had been rested for this game, came on and I was so impressed at how good of a player he really is.
Two minutes after he came on as a substitute from Mido (yes, Mido) he scored the first of his two goals he got on that afternoon. It was a relatively simple goal, scoring after hitting the post with his original effort, collecting the rebound and slotting it home. His second goal was what really displayed his audacity and brilliance of the Bulgarian. A flicked through ball from Robbie Keane, played into
Berbatov who beat the offside trap, and he then lofted the ball over the Fulham goalkeeper
.
The desire and hunger expressed from Berbatov in order to score these two goals, while the game was already won, is that which has been rekindle this season, after two and a half tricky seasons at Manchester United.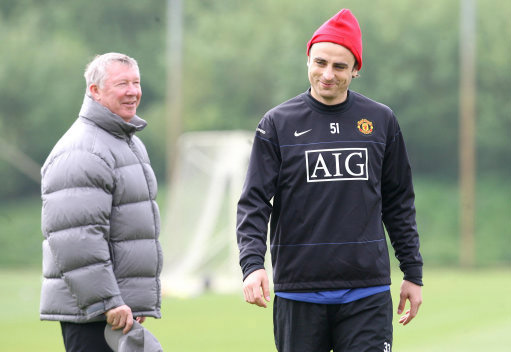 So what has made him become such a force this year?
When he joined Manchester United, he came with this huge price tag, which sometimes can psychologically affect player. We have seen this with players and big transfer fees before, as it adds another level of expectation on top of an individual who already plays for one of the biggest clubs in the world, and whose main impact will ultimately be defined by how many goals he scores.
Also when Berbatov joined United, he was already in a squad consisting of many world class attackers, let alone individuals. They already had Cristiano Ronaldo, who during his spell at Manchester United would be crowned European and World Player of the Year. There was also Carlos Tevez, who had built up a cult following for extraordinary workrate and ability. Also of course at the club is Manchester United's "
golden boy
" Wayne Rooney, who scored 72 goals in 138 games since Berbatov signed for the club. So there were plenty of other players taking the limelight, when Berbatov struggled to make an impact.
The reason I feel Berbatov has been flourishing this season, is because he has become the vocal point of the Manchester United attack. Last season, it was Rooney, but injuries and off the field the problems, have stalled Man United's number 10's progress, Berbatov has taken on the responsibility of finding the back of the net.
He started his professional career as a 17 year old at Bulgarian side CSKA Sofia, he made his first debut aged 18 where he went on to spend two seasons at the club, where he made a name for himself scoring
26 goals in 49 appearances
. The only blight on this spell at the club was that he was
unbelievably kidnapped
by
members of the Bulgarian Mafia
, who attempted to force him into signing for FC Levski Kjustendil.
The ordeal was resolved, and Berbatov
moved abroad
to German high fliers Bayern Leverkusen, where he truly made his mark as one of the most promising and technically gifted individuals in Europe. During his time at Leverkusen, he scored 69 times in 154 appearances, and played in the Champions League final defeat to Real Madrid.
Berbatov's prowess and ability, earned him a £10.9million
move to Tottenham
, and an opportunity to play in the Premiership. During his time at Spurs, he became a fans favourite, and was instrumental in Spurs challenge for Champions League football. He scored 27 times in 70 appearances for Tottenham, before making his "Dream Move" to Manchester United.
With two average seasons at Manchester United, where he has produced few moments of brilliance, the pressure and expectation has been lifted off the Bulgarian. Manchester United fans I have spoken to, agree that they don't expect 20 goals from Berbatov, but seem content with the odd overhead kick here and there.
These lowered expectations have boosted his confidence, and giving him a greater sense of freedom. Twinned with Manchester United's tactics which allow Berbatov and Rooney to switch between who plays the second striker, and a main striker, has allowed him to hit the ground running this season.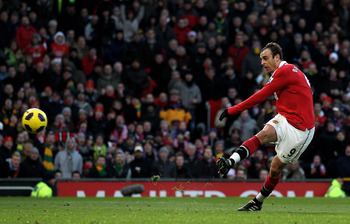 The numbers don't lie, and his improvement this season is evident for all to see. Before this season he scored just 21 goals in 64 appearances, while this campaign he has hit 19 goals in 19 games. The sort of return you'd expect from a striker with his ability. He scored five goals in one game in Blackburn, and scored three hat-tricks this season, against Liverpool, Blackburn (as part of the five) and against Birmingham City.
The jury is still out on whether Berbatov can keep up this consistency, and whether is a match winner, as this season he hasn't scored against any of the top 6 teams. However this season will be defining for him.
He is the leading goal scorer in the Premiership this season, and has taken Manchester United to the summit of the table, and has become one of the most vital players, and now appreciated players at Old Trafford, and will be vital in Man United's challenge for three trophies.
Real Talk Football
www.twitter.com/RealTalkFB