This evening, Liverpool have
confirmed they have agreed a fee
with Ajax to sign one of, in not the most converted strikers in Europe; Uruguayan international Luis Suarez. The fee is believed to be €26.5 million (that's £22.8million). He is due for a medical tomorrow, and still needs to agree personal terms before the signing is completed.
So what have Liverpool brought?
Liverpool have spent big, and strengthened their faltering frontline. The lack of form (and injuries) hindering Fernando Torres this season is that which has aided in Liverpool's struggles this season.
Suarez made his name in Holland, joining FC Groningen from Uruguayan side Nacional in 2006. There he would spend his first season in Europe, and impressed immediately. After just one season with Groningen, he made an £6million transfer to Dutch giants Ajax. His time with the Amsterdam club is where he showed his most impressive form, and clinical goal scoring ability.
His record at the time of leaving the club is an astonishing 81 goals in 108 appearances.
He gained notoriety on the world stage, while influence was his instrumental in Uruguay's World Cup campaign, where they reached the Semi-Final. He was however sent off in the Quarter-Finals after a deliberate handball in extra time against Ghana.
Suarez is a technically astute individual with a great first touch. He combines his acceleration with flair and tricks to allow him to frighten defences, and trick opponents. His vision, creative ability, passing ability and decisiveness help him unlock defences.
Will he make it? How does he compare to other exports?
When you think of players who have came over from the Eredivise, Suarez fantastic goalscoring record is similar to many who have come before.
Here's a few who didn't do so well leaving Holland:
Mateja Kezman
Club:
PSV to Chelsea, 2004-2005
Transfer Fee:
£5.3 million
Performance:
He scored 4 goals in 25 appearances for Chelsea,
Success:
He never made it in the Premiership; he went on to have unsuccessful spells in Spain; with Athletico Madrid, Turkey; with Fenerbache, France; with Paris Saint-Germain, and in Russia; with Zenit St. Petersburg. He now plays in relative obscurity in the Hong Kong first division, with a team called South China.
Klass-Jan Huntelaar
Club:
Ajax to Real Madrid, 2009
Transfer Fee:
€27 million
Performance:
He scored 8 times in 20 appearances, and was shipped out after just 6 months
Success:
His goalscoring record in Holland before joining Real Madrid was 135 goals in 193 games. He didn't have the best of time in Madrid, despite scoring goals, he just wasn't the right sort of player the club wanted. He had a semi-successful spell with AC Milan, before joining Schalke in Germany where he is now playing.
Afonso Alves
Club:
Heerenveen to Middlesbrough, 2008-09
Transfer Fee:
£12.7 million
Performance:
He scored just 10 goals in 42 appearances.
Success:
The barrel-chested Brazilian won individual accolades and plaudits for his performances in Holland. During his time at Heerenveen he scored 45 goals in 39 appearances, so Middlesbrough thought they had a steal on their hands. However that wasn't the case, he only lasted one season, managing 10 goals in 42 appearances, in which Middlesbrough were subsequently relegated and Alves (who was on big wages) was shipped off to Qatar. He is now settled in Qatar and scoring goals for fun.
Players who did do well:
Ruud Van Nistelrooy
Club:
PSV to Manchester United, 2001-06
Transfer Fee:
£19 million
Performance:
95 goals in 150 appearances, worth every penny
Success:
Before joining Manchester United, he hit 62 goals in 67 appearances for PSV, which earned him a move to one of the biggest clubs in the world. He became a Manchester United legend, and was undoubtedly one of the deadliest penalty box strikers to ever grace the Premiership. He won the Premiership title, FA Cup and League Cup during his spell in England. He moved on to Real Madrid in 2005, where he was just as successful, and now plays in Germany with Hamburg. He is still scoring shed loads of goals.
Robin van Persie
Club:
Feyenoord to Arsenal, 2004
Transfer Fee:
£2.75 million
Performance:
An astute purchase by Arsene Wenger, he has scored 54 goals in 143 games.
Success:
A career blighted by injury; however the Dutchman's ability is never in doubt. Unbelievable technique, first touch and accuracy, he is now in his prime, and ready to take Arsenal back to the top.
Dirk Kuyt
Club:
Feyenoord to Liverpool, 2006
Transfer Fee:
£10 million
Performance:
40 goals in 160 appearances
Success:
Kuyt came to England, as a deadly striker, with a record in Holland of 152 goals in 261 games. When he joined Liverpool, he was converted into a right midfielder by then manager Rafael Benitez, and has become a cult figure with the Anfield faithful.
So can Suarez follow suit? In a word, yes. He is a battler, with a huge passion for football, but more importantly he has the ability which makes him more adaptable to the Premiership.
Where will he fit it?
This is what all Liverpool fans will want to know; is he a replacement for Torres? Or will he play alongside the Spaniard? I believe Torres will stay at Liverpool, until the summer at least.
Recently Liverpool has found themselves performing a lot better with Kenny Dalglish's 4-2-3-1 formation.
The current formation see's Cristian Poulsen sitting in the holding midfield role, while Lucas adds the ball winning option, and he also operates more defensively. This means Lucas and Poulsen protect Daniel Agger and Martin Skrtel at centre back, which allows for the full backs to push on, high up the pitch.
Gerrard is subsequently given more freedom, and plays the attacking midfield role supporting Torres wherever possible, while Kuyt offers width on the right. Suarez will slot onto the left wing role, as an advanced forward, taking the place of Maxi Rodriguez.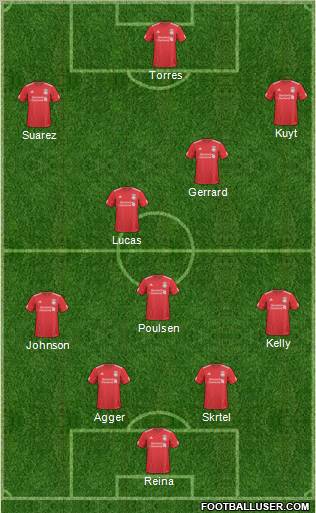 Liverpool fans will be buoyed by this signing, and it's another bonus for the Premiership to have another class talent play on these shores. He should kick start Liverpool's Premier League campaign, and allow them to finally move on from a terrible 2009.
How do you think Suarez will fare? Leave your comment below
Real Talk Football
www.twitter.com/RealTalkFB