Manchester City have shown they have the capability to challenge for the Premiership title and while its evidently clear they have the squad to achieve, will infighting and overinflated ego's hinder their chances?




It's no coincidences that football club with problems behind the scenes, just cannot perform on the pitch and subsequently underachieve. It's pretty much fact. In recent years, there are numerous examples of infighting, while the damage done can be disastrous.

Newcastle United were relegated from the Premier League in 2009 after a turbulent season whereby the club had managerial issues, hiring three managers in one season, and the conflicts among the board spelled the end for their 16 stay in the English top flight.

Even this season, infighting has done significant damage to clubs performances. The Aston Villa situation immediately comes to mind, whereby then manager Martin O'Neill resigned before the first league game of the season due to owner Randy Lerner accepting a £26million bid for star player James Milner, and basically selling him against the managers will.

Villa who were a top 6 club, with serious aspirations of ascertaining Champions League qualification, are now struggling to maintain the standards they set for themselves over the past four years. They currently sit 17th in the league, and ramblings between Gerard Houllier and the likes of John Carew, Gabby Agbonlahor , Stephen Ireland and Richard Dunne have hindered the teams progress this season, they are now relegation battlers.

At the other end of the spectrum, is Roberto Mancini, who despite all he has had to deal with this season, still has a serious chance of Manchester City collecting the Premier League title for the first time in history, which would make them only the 5th different club to do it since its inception in 1992.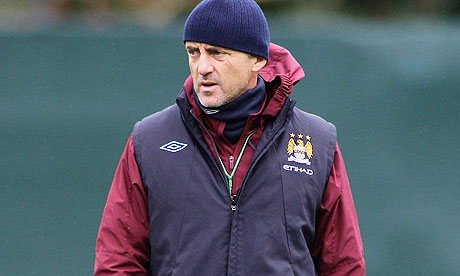 There have been rumours of unrest in the camp ever since Mancini took over in 2009, but no such unrest has become such public as the numerous displays this season.

Earlier this season, the first signs of trouble came a cropper, when summer signings James Milner and Yaya Toure clashed at half time during a 3-0 defeat at home to Arsenal. The manager and the players played down the rift, claiming "
heat of the moment
" and "
frustration
".

A week later, another clash between team mates occurred during a 2-1 defeat to Wolves, where defender Vincent Kompany and striker Emmanuel Adebayor were seen furiously arguing with each other. This was again, played down by the players citing an attempt to "
get a reaction out of each other
".

The next sign of trouble came at half time again, this time in a 2-1 win against Newcastle, where Mancini had a war of words with star striker Carlos Tevez in the changing room. This would be the beginning of a frosty relationship between the pair, with Tevez showing public display of anger towards Mancini in a 1-0 win against Bolton.




The reason for this bust up? Tevez was substituted with a few minutes left of the game, and he was deemed to be unhappy at a pre-recorded interview being shown in the stadium of Tevez "
singing Mancini's praises
".

One week after is incident, Tevez handed in a transfer request, which was subsequently dismissed by the club, and Tevez supposedly withdrew the transfer request two weeks later.




Whilst this saga was continuing, there were more problems popping up left, right and centre for Mancini. £23million striker Mario Balotelli had a training ground fight with team mate Jerome Boateng. The two clashed in training and were seen attempting to choke it other! Again this was deemed a "minor flare-up" and an isolated incident. Balotelli has since stated his desire to return to Italy, as he is "

home-sick

", but this of course has been rejected by Manchester City.




The latest and probably most absurd incident came just yesterday, when striker Emmanuel Adebayor (again) had a training ground fight with vice captain Kolo Toure. This may not come as much of a surprise, especially to Arsenal fans, who knew the two were very disruptive influences in the dressing room at the Emirates and subsequently shipped out of North London.




It was rumoured that when Kolo Toure came out in the press explaining that certain players need to "
pull thier weight
" for Man City to exceed, was aimed at the Togolese striker.

What is with these guys and training ground fights?

Toure fouled Adebayor, they scuffled, with Kolo ending up getting Adebayor in a headlock. They were subsequently separated, and today they have attempted to downplay the significance of the fight claiming it wasn't a major incident.




Now for Mancini, the aim is damaged limitation. He has an abundance of riches, undoubted quality in every area of the team, and a team consisting of proven winners in each of these areas; such as Kolo Toure in defence, Yaya Toure and David Silva in midfield, and up front with Carlos Tevez.

City are also expected to complete the £27million signing of Bosnian striker Eden Dzeko, paving the way for Adebayor to make his exit (Real Madrid and Juventus are rumoured, while Malaga seems a more likely destination).

Now if the individuals at Man City can keep their temperament and ego's under wrapped then there could possibly be the strongest contenders for the title, however as the numerous incidents highlighted and displayed this season, keeping the team spirit and unity needed in order to win the title would be something short of a miracle.

Only time will tell, but we know we are in for a sensational title race.


Real Talk Football