Mark Hughes Sacked
As many of you may know, Manchester City manager Mark Hughes was sacked by the club after a run which saw him win just 2 of 11 Premier League games. There have been a lot of controversy surrounding his departure, some feel it was unfair, some feel it was deserved, only time will tell. Roberto Mancini takes charge with immediate affect, signing an initial 6 month contract with an option to an extra 3 years.
Adriano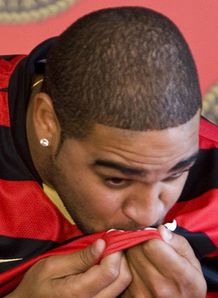 Brazilian striker Adriano has quashed rumors of signing for West Ham or Arsenal by sigining a 6 month contract extension with Brazilian side Flamengo. The deal is a unique one, which saw him recieve a 40% pay increase due to the Brazilian Serie A champions gaining a new sponsorship deal. The Brazilian's hopes to get a place in Dunga's World Cup squad.
Klass Jan-Huntelaar
Dutch striker Klass Jan-Huntelaar has become increasingly unhappy with the lack of 1st team opportunities at AC Milan, falling down the pecking order, with the likes of Boriello, Inzaghi, Ronaldinho and Pato all first choice. The predator has therefore been linked with a loan move to clubs in January with Arsenal, Manchester United and Genoa heading up the list of possible suitors.