Arsene Wenger, and club captain, Cesc Fabregas have made it evidently clear that the North London need to invest in a striker to replace the injured Robin Van Persie. From the list below, you decide who the Gunners should invest in, however bare in mind Arsenal preferably needs a player who is not Champions League cup-tied, can quickly adapt to the Premiership and finally a proven goal scorer.

Let's take a look at the current options:
Carlos Vela – the Mexican, just today signed a new contract with the club, has made some excellent performances in the Carling Cup, but has failed to make any real impact in the Premiership.

Eduardo Da Silva – when he joined the club, he was seen as a world class finisher and formed a formidable partnership with Emmanuel Adebayor up front. However since that injury he picked up against Birmingham, he hasn't been the same. Missing easy chances against Wolves, Everton and Tottenham, shows he still needs time to get back to playing in the best league in the world.

Nicklas Bendtner – has come on leaps and bound under Wenger and has finally hit some form compared to last season. He has been injured lately and when he comes back, he will be an option; however he does not have the goal scoring record to replace Van Persie at this moment in time, but the best man for the job within the club.
Same names keep popping up:
Marouane Chamakh
– the tall, quick striker was seemingly a certainty to join Arsenal in the summer, but the move never materialised. With Bordeaux flying high in the Champions League and Lique 1, it is unlikely they will allow for a sale, however the Moroccan international's contract is up in the 2010, and they may look to cash in, however Wenger would look to a free transfer being a good bit of business, only if he is needed. He doesn't have the best goal scoring record compared to the other options available, with just 50 goals in 204 appearances.
Edin Dzeko
– one of the most in demand strikers in Europe, and has been linked with all the big clubs, including AC Milan, Real Madrid and Manchester United. He is a both footed, tall, pacey striker, with excellent shooting technique and a goal scoring record of 40 goals in 74 games, for VFB Wolfsburg, with 26 goals in 32 league games in the 2008/09 season. The big stumbling block is of course the interest from the other big clubs, with Milan and Manchester United seemingly favourites to land the striker, however the recent talk of financial difficulties at both clubs could somewhat impact the clubs spending power in an upcoming bidding war.
Ryan Babel – the Liverpool winger was heavily linked with Arsenal before his big money move to Liverpool, which came with a £13million price tag. The Dutch international has never really lived up to the hype and due the him already making his decision to join the Liverpool, poor scoring record (9 goals in 61 appearances) and raw talent, Wenger is unlikely to make the purchase. Also cup tied.
Ruud Van Nistlerooy – Wenger has dismissed reports linking Arsenal to the Real Madrid and former Man United hit man, however Wenger has made surprise decision in the past, i.e. Silvestre and Lassana Diarra.

The expensive option:
David Villa – would be an excellent option, but the Spanish international has already expressed his desire to play for either Barcelona or Real Madrid. Would command a transfer fee of up to £40million.
Sergio "Kun" Aguero – another expensive player who would have huge wage demands as well as a record breaking transfer fee would be needed in order to attain the transfer.

Premiership based players:
Carlton Cole – the West Ham striker and England international has been excellent this season. He has scored 7 goals in 13 games already this season and has look first-rate in a poor team. Despite his good form, his goal scoring record in England, is only has scored 40 goals in 183 games. He currently injured at the moment until January, but he is a powerful striker who knows how the score and has finally started finding his feet within the Premiership, having proved himself against the big clubs, and now looks capable of making that step up. Finally he isn't Champions League cup tied.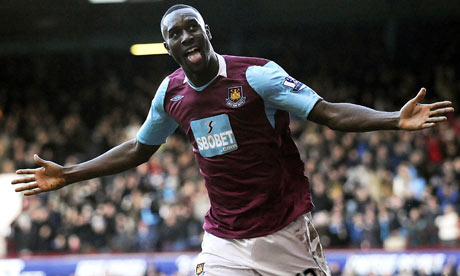 Louis Saha – the Everton forward has been in excellent form this season; scoring 11 goals in 18 games in all competition. However the fact he has missed many games in his career through injury, and is 31 years old will not sit favourably with Wenger.
Outsiders:
Gervinho
– the 22 year old Lille striker has been linked with Arsenal and Tottenham in the past, and scored an excellent goal in a 4-3 win over Lyon this weekend, video below. He is a fast and strong left winger, who can play upfront and who has been in impressive form this season, scoring 7 goals in 16 appearances. The Cote d'Ivoire international has only recently signed with Lillie so a winter move is unlikely.
Gervinho plays for Lille, in the red kit, shirt number 27:
Adriano – the Emperor has returned to form and been in excellent form for Flamengo this season, scoring 19 goals in 30 appearances, and helping them capture the Brazilian Serie A. but the Brazilian has had all sorts of personal and public problems in the past, that have blighted his career, despite having World Class talent. The only real reason he has been linked with the Gunners is due to his availability on a free transfer as well as him not being cup-tied. however their is a reason he returned to Brazil and that was to get away from the distractions in Europe and concentrate on him doing what he does best. an unlikely option in my opinion.