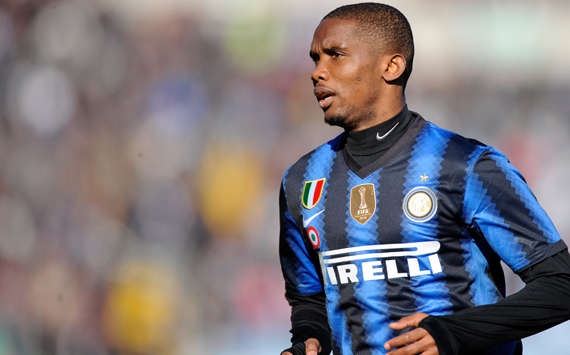 With one of the world's best strikers set to move to one of the most obscure football clubs in the Europe, for an absolute shed load of money I might add, a sum in which would make even Carlos Tevez blush. Samuel Eto'o is all set for a £30 million transfer to Anzhi Makhachkala, where he will earn wages of a rumoured £330,000 a week.
With all the financial madness in the game today, Manchester City owned by the brother of Abu Dhabi ruler;
Sheikh Mansour bin Zayed Al Nahyan who has an estimated worth of £555 billion
. Malaga, owned by Sheikh Abdullah bin Nasser bin Abdullah Al Ahmed Al Thani, has undisclosed wealth and member of the Qatari royal family. Paris Saint Germain, who just this week completed the £37 million signing of Javier Pastore ahead of English giants Chelsea, have similar Middle Eastern financial backing as Malaga, with 70% of the club owned by the Qatari Investment Authority who also have ties to the Malaga owners. Show's that financial super powers are no longer the big names we are used to.
As for Anzhi Makhachkala, they were founded only twenty years ago in 1991 and have spent a majority of time during professional existence in Russia's first division, the second tier of Russian football, before returning to the Premier League in 2009 after a seven year hiatus. They've now consolidated their position in the Russia's top flight, and in January of this year, a major revolution took place at the Dagestan based club.
Russian businessman Suleyman Abusaidovich Kerimov, listed number 118th on Forbes list of the Worlds' Billionaires,
purchased the football club
and has a personal net worth of US$7.8 billion. A month later, the clubs first major signing was then 37 year old Brazilian legend Roberto Carlos. He signed a two-and-a-half year deal, where he is to earn approximately €10 million. He is currently Anzhi's club captain.
Current players on the books include Brazilian striker Diego Tardelli, who was once one of Brazil's most promising forwards, joined from Athletico Miniero for a €7.5 million in March of this year, making himself the fourth Brazilian at the club.
Another interesting note is that Anzhi clubs stadium only a capacity of 11,600.
Some of the more recent signings include former Chelsea midfielder Yuri Zhirkov, who has 44 caps for Russia, joined for £13.2 million and signed a four year contract worth €5.5 million annually. Also former PSV forward and Hungarian international
Balázs Dzsudzsák joined
for €14 million where he will earn £2.5 million a year, for five years.
Big money moves, with a few well known names in European and World football have joined the club, but these will all be eclipsed by the blockbuster move for Cameroonian captain Samuel Eto'o. Inter have been
offered €40 million for the 30 year old, offering Eto'o wages of £330,000 a week
. But before Eto'o signs for Anzhi, there are serious concerns whether this is the right move for the striker, and many people are sceptical and believe it's not right for someone who has been subject to racial abuse in his career, something which club captain Roberto Carlos suffered recently. Is this the sort of haven Eto'o would like to reach the twilight of his career in?
These concerns regarding racism in Russian football, with no better example than this video that surfaced a few months ago of Anzhi player (and captain)
Roberto Carlos being racially abused during a match against Zenit St. Petersburg and Krylia Sovetov Samara
where banana's were waved at him and at the latter, thrown at him. West Brom striker Peter Odemwingie was the subject of racism in Russia, the striker was subject to racist abuse while playing at for Lokomotiv Moscow.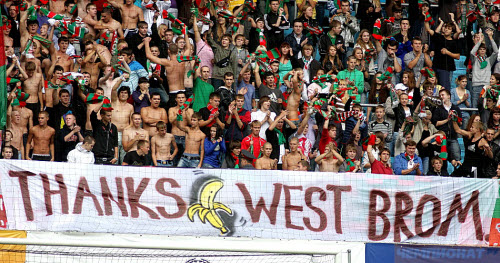 Eto'o would argue why he should care about the prospect of
racism
, after he was racially abused during his time at both
Inter Milan in Italy
, and while playing for FC Barcelona in Spain. It must obviously faze him, and Eto'o would respond by saying he's here to play football, and may even
brush it off
as somewhat idiotic and ignorant people, but it is not at all excusable. Racism in UK football is nonexistent as it was back in the 1970's, and it's met with shock and anger when reported in this country, but the proof is there, that it still pops up in different corners of European football.
This is a factor Eto's would have to consider, and considering how upset he was after this
incident against Real Zaragoza
, shows that he is human and is deeply affected by such abuse. This is of course is a blog post about who Anzhi are, and not racism in football, but with Eto'o expecting to be a marquee signing, racism is something I had to discuss and make it clear to football fans reading, that this is something which has been displayed by their fans.
Whether Samuel Eto'o signs, and fancies himself a new challenge is yet to be confirmed, it is however widely expected to be a done deal next week. This could see a shift in power from Western European to Eastern European football. Clubs in Russia and Ukraine have always had money, but have struggled to bring big big names, and more importantly players in their prime. Eto'o may be 30 years old, but he scored 37 goals in 53 appearances last season, and is by no means past his best. This will be a massive move for this ambitious Russian side, and will surely open the path to other international stars that can persuaded by the big funds offered by clubs outside of the top three leagues in European football. One thing's for certain, with Malaga, Paris Saint Germain and now Anzhi Makhachkala bankrolled by major financial sources, how long will it be before traditional clubs fall away unable to compete with the financial leaders and more importantly how will UEFA level the playing field?
Real Talk Football