Liverpool
Manager:
Kenny Dalglish
Captain:
Steven Gerrard
Last Season:
6th
In:
Stewart Downing – Aston Villa – £20 million
Jordan Henderson – Sunderland – £15.8 million
Charlie Adam – Blackpool – £7.4 million
Doni – Roma - Free
Out:
Paul Konchesky – Leicster - £1.5 million
Peter Gulacsi – Hull City – Free
Stephan Darby – Rochdale – Free Transfer
This Season:
They've made big money signings, but all in the same area of the pitch. This seems to be the underlying feel to Liverpool's summer. They have had a poor preseason, and news that both Glen Johnson and Steven Gerrard will miss the start of the season, no one will be to surprised if Liverpool's confidence is a bit low at the moment. It's up to the Anfield faithful to raise the players, and demand a strong season from the club.
There is still lots of "deadwood" in that midfield, so I wonder how big Liverpool's wage budget actually is. Kudos to Dalglish however, for getting the ludicrously overpaid Milan Jovanovic off the books and sent him packing to Belgium. I think Kenny Dalglish should have strengthened defensively, while injury prone defenders such as Daniel Agger and Martin Skrtel could've been replaced, but the manager clearly believes they're the right men for the club.
I expect Luis Suarez to have a big season for Liverpool, he has been in blistering form this summer and was instrumental in Urugauy's Copa America win. A fully fit Andy Carroll has to start scoring goals to pay off the big £35 million price tag, while Alberto Aquilani will have a point to prove (should he get the opportunity) or he could be heading back to Italy, with Fiorentina heading up the possible list of suitors.
I still believe there best XI is the side that finished last season, with Charlie Adam filling in when Steven Gerrard is injured. It'll be interested to see where Stewart Downing fits in, and how much Jordan Henderson will play. Liverpool have continued their recent trend of paying over the odds for English players, so it remains to be seen how long it will take for them to gel together and for Liverpool to gain some much needed consistency. I do however, see them competing for a top six place.
Prediction:
6th
Best Starting XI: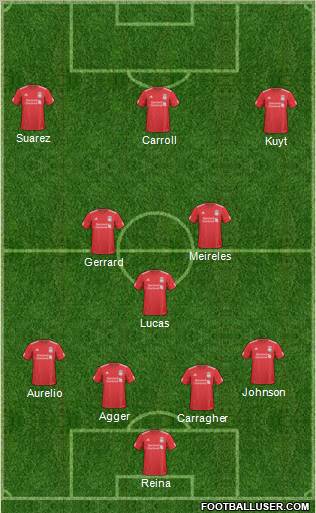 One to watch this season:
Jordan Henderson
How do you think Liverpool will get on this season? Leave a comment below