Chelsea
Manager:
Andres Villas-Boas
Captain:
John Terry
Last Season:
2nd
In:
Romelu Lukaku
- Anderlecht - £20 million
Lucas Piazon – Sao Paulo – £6.6 million
Thibaut Courtois
– KRC Genk – £7.9 million
Oriel Romeu
– FC Barcelona – £4.5 million
Out:
Nemanja Matic – Benfica – £4.4 million
Michael Mancienne – Hamburger SV – £2.2 million
Fabio Borini – Parma – Hamburger SV – Free
Jeffrey Bruma – Hamburger – Hamburger SV – £440,000
Jack Cork – £740,000 – Southampton
Thibaut Courtois – Athletico Madrid – Loan
This Season:
New boss Andres Villas-Boas has an interesting task on his hands at Chelsea, he has to get the side playing exciting football, he has to deal with the white elephant that is Fernando Torres, and most importantly; he must get Chelsea a trophy (preferably the Champions League). All these tasks will require Chelsea to hit the ground running in their opening Premier League away to Stoke.
This preseason has given a good indication to where the West London club, no marquee signings so far although Romelu Lukaku is set to join, but being outbid by Paris Saint Germain for much needed playmaker Javier Pastore, and Luka Modric not too fussed whether Abramovich cough's up the fee for him or not, you wonder where this injection of youth and excitement will come from within the Chelsea ranks. With just three weeks left of the transfer window, expect a push for Modric, as he only seems to be there main target.
The 4-3-3 formation will return, while I fully expect Daniel Sturridge to have a great season. Abramovich will expect Villas-Boas to get the best out of the Fernando Torres, while keeping Didier Drogba happy. Defensively, Chelsea are still fantastic, but the midfield leaves a lot to be desired. They need a playmaker in that midfield, maybe incorporate Josh McEachran into the first team, and see how he develops. With Jon Obi Mikel not impressing, and Michael Essien injured (again) new Barcelona recruit
Oriol Romeu
may get his run in the Chelsea first team sooner rather than later.
You can read more on Chelsea's new boss
here
, and their now signings;
here
.
The Chelsea winning machine will grind on, and be the main source of competition in all four competitions. I don't think they have enough strength in depth to win the Champions League, but none the less they will look to win a trophy after finishing last season empty handed.
Prediction:
3rd
Best Starting XI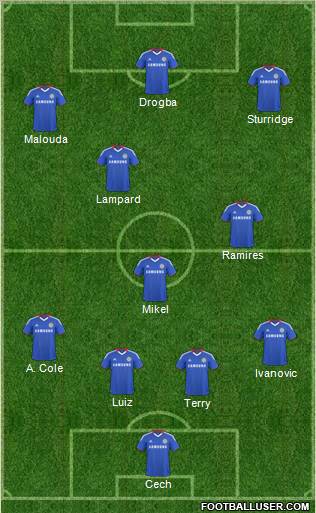 One to watch this season:
Daniel Sturridge
How do you think Chelsea will do this season? Leave your comment below