Manchester United
Manager:
Sir Alex Ferguson
Captain:
Nemanja Vidic
Last Season:
1st
In:
David De Gea – Athletico Madrid – £17.6 million
Phil Jones – Blackburn – £17.6 million
Ashley Young – Aston Villa - £15.8 million
Out:
John O'Shea – Sunderland – £4 million
Wes Brown – Sunderland – £1.3 million
Bébé – Besiktas – £880,000
Paul Scholes – Retirement
Edwin Van Der Sar – Retirement
Owen Hargreaves – Free
This Season:
Manchester United was "
weaker
" last season, and it wasn't one of Sir Alex Ferguson's "
strongest sides
" but they still won that coverted 19th league title, knocking Liverpool "
off their perch
". That side who was led by the talismanic Wayne Rooney, who was abject before Christmas, but transformed his form at the turn of the year scoring vital times against noisy neighbours, as well as that elegant hat trick against West Ham were the stand out moment of his season. Defensive rock Nemanja Vidic also led the list of plaudits, and the vastly improving Nani, who hit 10 goals and got 15 assists last season, as well as the brilliant Edwin Van Der Sar all contributed to Manchester United claiming that symbolic 19th league title.
Javier Hernandez was another stand out name who had a fantastic season last year, and now with the addition of winger Ashley Young, who has already shown he's hungry for success, and United's future defensive pairing of Phil Jones and Chris Smalling (the latter who has been filling in at right back and doing a great job) along with the returning Danny Welbeck and Tom Cleverly from successful loan spells, not only do Manchester United have quality new additions, but have strength in depth to add to the abundance of youth at the club. De Gea, and Welbeck, 20, Smalling, Cleverly, Fabio and Rafael, all 21, Anderson, Hernandez, both 23, and Nani, aged just 24 shows that the future certainly is bright for Manchester United.
That blend of experience and youth, pace, power and ability will lead Manchester United to the front of the pack, leaving the others in their wake. A strong Champions League challenge has become the norm, while I'm sure Sir Alex Ferguson would like to get his hands on the FA Cup trophy. They are Real Talk Football's favourites for the title, but will have a long tough season ahead.
Prediction:
1st
Best Starting XI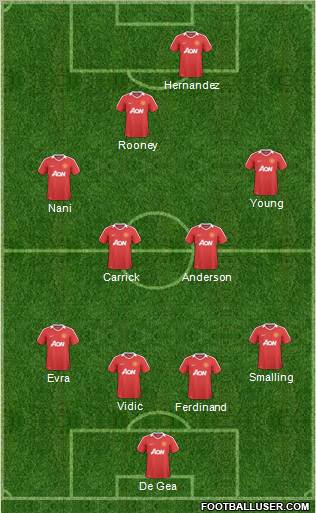 One to watch this season:
Tom Cleverly
Is it more of the season for Manchester United this season? How will they fair against the new City challenge? Leave a comment below