Manchester City
Manager:
Roberto Mancini
Captain:
Vincent Kompany
Last Season:
3rd
In:
Kun Aguero – Athletico Madrid – £39.6 million
Stefan Savic – Partizan Belgrade – £10.5 million
Gael Clichy – Arsenal – £6.9 million
Out:
Jerome Boateng – Bayern Munich – £11.9 million
Shay Given – Aston Villa - £3.3 million
Felipe Caicedo – Levante – £880,000
Michael Johnson – Leicester – Loan
Jo – Internacional – Free
This Season:
Well, where to start, the oil rich blue side of Manchester have brought in one of the best forwards in the world in Sergio Aguero to replace the frustrated Carlos Tevez. As I write this, Tevez is still on the books at Man City, and he's going to have to sit it out until January at least.
Roberto Mancini achieved his objectives from last season, winning the FA Cup, ascertaining third place in the Premiership, and subsequently gaining Champions League qualification. Now it's time for them to kick on and mount a serious challenge for the title. They have the most money in the league, they have arguably the best squad in the league, but this is my major sticking point, I do not believe they have the best team in the league, and this could hinder their progress. Unhappy, tantrum throwing players and in fighting could all damage Man City's shot of winning their first Premiership title. Carlos Tevez pretty much hates Manchester, Adam Johnson isn't happy warming the bench, Jerome Boateng wanted out and subsequently got his wish, and Mancini has shown this preseason that he still hasn't tamed the enigmatic and wild Mario Balotelli. Last season saw fights in training, off the field drug bans and all sorts of madness, yet City still managed to achieve their objectives!
Anyhow, should Tevez should, there is a big hole up front. Considering a team with so much quality, he and Yaya Toure carried the City team at times last season. David Silva was brilliant in spells, while Vincent Kompany's fantastic consistency and excellent defending saw him considered one of the best defenders in the league. Balotelli, Sergio Aguero and James Milner will all need to step up this season and take City to the next level.
Before watching the Community Shield, I had Manchester City as my favourite for the Premiership. But after seeing that Manchester United have just as much, if not more strength in depth as Manchester City, I now have the Red Devils as favourites. Manchester City will have to deal with the Champions League campaign which will ultimately take its toll on their Premier League campaign, and it will be interesting considering how lacklustre they were in the Europa League last year.
For me, a strong Champions League campaign, Premiership runners-up and a strong FA Cup challenge. Transitional yet hugely impressive season lies ahead for the blue half of Manchester.
Prediction:
2nd
Best Starting XI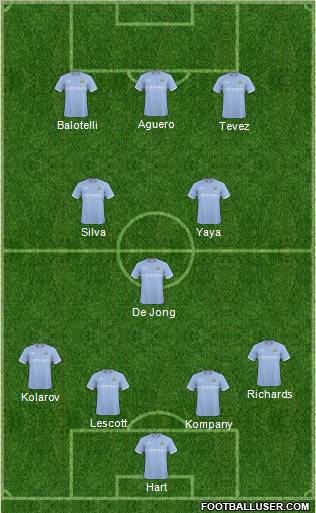 One to watch this season:
Sergio Aguero
Can Man City challenge for the title? How do you think they will do in the Champions League? Leave a comment below