Arsenal
Manager:
Arsene Wenger
Captain:
Cesc Fabregas
Last Season:
4th
In:
Gervinho– Lille – £10 million
Carl Jenkison – Charlton Athletic – £990,000
Alex Oxlade Chamberlain – Southampton – £10 million
Out:
Jens Lehmann – Retirement
Mark Randall – Chesterfield – Free transfer
Denilson – Sao Paulo – Loan
Jay Emmanuel Thomas – Ipswich Town – £1 million
Transfers correct as of 08/08/11
This Season:
Another tough season ahead for Arsene Wenger's men. With the imminent departure of Cesc Fabregas, the weight of responsibility and expectation falls onto that three man midfield; Alex Song, Jack Wilshere and Samir Nasri. Song had a great season last year, Wilshere was the standout young performer in the Premiership, while Nasri had a brilliant first five months but his influence over the team wore off towards the end of the season. Don't expect many comments on Fabregas here because he doesn't want to play for the club so why burden the fans with paragraph's of text on a man who has shown a distinct lack of interest in the feelings of the loyal supporters, anyway's lets move on!
Arsenal going forward always look more than capable, Theo Walcott and Robin Van Persie must stay fit in order for Arsenal to challenge for silverware, while Andrey Arshavin will continue in his same lazy but brilliant manor, and it will be interesting to see how Gervinho and his direct, and off the ball movement fares for him in the Premier League.
Defensive is arguably Arsenal biggest weakness, but they'll be strengthen by the return of heir apparent "new captain" Thomas Vermaelen. The Belgian international was a huge miss last season, and is expected to instil the much needed toughness Arsenal requires. Laurent Koscielny was great in spells last season, but clearly struggled in certain areas, in a league where you can only learn from your mistakes. He wasn't expected to be thrown in the deep end as quickly as he was, but partnering Vermaelen this season will help him become an excellent centre back. Djourou and Squilacci will provide adequate cover, but the less the latter plays; the better for Arsenal fans.
At full back, Wenger has put his faith in Kieran Gibbs and although he has great potential, what he lacks in experience, he makes up for in ability. If he can stay fit, he'll have a make or break season with the Gunners, and it'll be time to see what he's made off. Bacary Sagna at right back is one of the most consistent in Europe, and I'm sure the promising Carl Jenkinson is one for the future.
Finally Wojceich Szczesny will be the number one, and Wenger is not the only manager in the Premier League putting his faith in a young keeper. Szcezesny has the ability, but needs to prove it at the vital moments in the big games.
Arsenal will have another strong season, but I don't see them getting anywhere near the Premiership title. Wenger has got rid of some of the dead wood from the squad; the side have learnt valuable experience from last season, but he has failed to strengthen defensively for my liking. Expect a strong start to the season, and to tail off towards the latter stages. Without signing a new defender, missing out on Juan Mata, and not even considering replacing the calamitous Gael Clichy, a cup competition is Arsenal's best hope this season, and I feel I'm being kind by predicting them to finish fourth, although I believe they won't drop out of the Champions League places, with or without Cesc Fabregas.
Prediction:
4th
Best Starting XI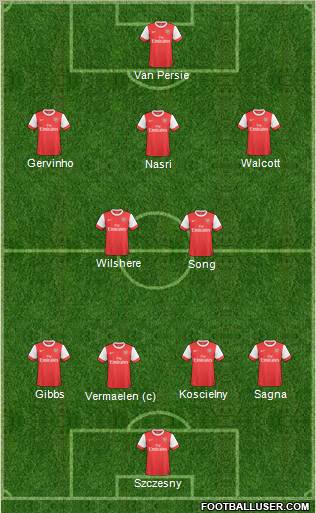 One to watch this season:
Alex Oxlade-Chamberlain
Where do you think Arsenal will finish this season? Leave a comment below, or vote in our poll.

Real Talk Football