Birmingham City


Birmingham, arguable next to Fulham, was one of the most impressive and consistent sides in the Premiership last season. Alex McLeish's men were renowned for their excellent performances at home as well as against the "big four".

Most noticeably they were the best performing of all the promoted teams, finishing in 9th place with an excellent tally of 50 points. They also set a club record 12 game unbeaten run and a Premier League record for naming the same starting 11 for nine games in a row.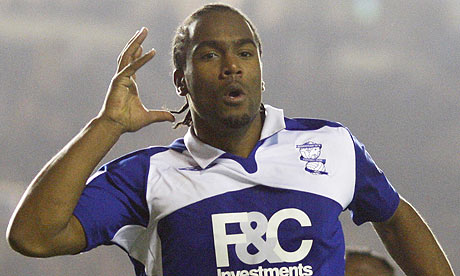 Players such as the club such as Barry Ferguson and Lee Bowyer becoming a vocal point in the side, using their experience in order to add balance to the side as well as much needed leadership. Cameron Jerome impressed up front chipping in with 11 goals, while defenders Roger Johnson and Scott Dann's defensive partnership were the basis for a sold Birmingham side.

The cornerstone of Birmingham's excellent season was the performance of on loan goalkeeper Joe Hart, who's performances earn rave reviews, a PFA Young Player of the Year nomination, being named the goalkeeper in the PFA Team of the Year, as well as Birmingham player of the year, which all subsequently earning him a place in the England World Cup squad. It would be fair for new signing Ben Foster has a lot to live up for.




Key Player: Roger Johnson

The 27 signed from Cardiff City last summer and was a hit in the Premier League after establishing himself as a very good and highly capable centre back. He played 35 Premier league games last season, and his ability and commitment to the cause is what is needed for a difficult second season in the English top flight.

Manager: Alex McLeish

Key Signing: Ben Foster

As stated earlier, the former Manchester United goalkeeper has big shoes to fill after Joe Hart left a very good impression on the fans. The 27 year old has played for as many as 9 clubs in 10 years, but has found his chances very limited at the top level. Now it seems that Foster has a permanent home and has no better chance to solidify his position as a number one goalkeeper and possibly return to the England squad.




Aims: A strong cup run, as well as a mid table finish

Prediction: 11th

With an impressive season last year, I believe they are weaker side this time round since they have a relatively untested player in goal at Premiership level. They say goalkeepers can win you games, and Joe Hart is one of those players, while Ben Foster will have to maintain these high standards in order to continue Birmingham's Premiership stay. However the rest of the squad have the hard working mentality instilled through manager Alex McLeish, so with this added experience of the previous year in the league, coinciding with the signing man mountain Nikola Zigic, Birmingham should be able to maintain their stay and gain a comfortable mid table finish.

First Five Fixtures: Sunderland (A), Blackburn (H), Bolton (A), Liverpool (H), West Brom (A)

Best 11