Bolton Wanderers
For the first time in a while, it seems Bolton fans can look forward to a Premier League season full of promise and progression. Fomer boss Gary Megson left the club in December and Burnley manager Owen Coyle was drafted in to takeover at the helm, very much to the satisfaction of Bolton fans.
Coyle came in, taking the club out of the relegation zone and managing to guide them to 14th place in the league. Now Coyle has settled into the club, Bolton are playing some good football, and own a very good bunch of players in the squad capable of helping them to finish further up the table.
Manager Owen Coyle has brought in some very good recruits without spending any of his allotted transfer budget. Into the squad comes Ivan Klasnic on a permanent deal after leaving Nantes on a free transfer, while Martin Petrov has joined from Man City for free, and Robbie Blake, who played under Coyle at Burnley; has joined after his contract ran out with the relegated side. The only loss from the squad is Jack Wilshire who impressed on loan last year, but is expected to become on regular squad member at Arsenal this time round.
Key Player:
Kevin Davies
Captain Kevin Davies is now entering his 7th year at Bolton and he is considered a vital component to the squad. He may not be the most clinical striker, but his hold up play and strength is a disruptive influence, one of which all defenders hate playing against.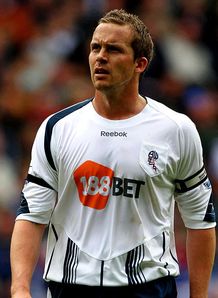 Manager:
Owen Coyle
Key Signing:
Martin Petrov
The Bulgarian international is an excellent coup for the club, with bags of international experience and European football under his belt. He is a quality left winger, known for creating many assists while chipping in with goals also. He will slot into the Bolton system quite easily and is expected to be a first team regular during his time at the Reebok Stadium.
Aims:
Progression
Prediction:
12th
The spine of the Bolton team is very strong with lots of ability, and this is what will set Bolton apart from the lesser teams in the league. Jaaskelainen is one of the best goalkeepers in the league, and has been for some time, while Gary Cahill is one of the most promising centre backs in the Premiership. Matthew Taylor adds the creative influence in midfield, while Sean Davis and Fabrice Muamba add steel and balance, also creating options for strikers Kevin Davies and Ivan Klasnic. With Owen Coyle, a respected and tactically consistent manager in charge, Bolton should be able to progress as much as they did under Sam Allardyce in previous years.
First Five Fixtures:
Fulham (H), West Ham (A), Birmingham (H), Arsenal (A), Aston Villa (A)
Best 11