Group EBayern MunichLast Season:
Champions League Runner-up, Bundesliga Winners
Manager:
Louis van Gaal
Key Man:
Arjen Robben
Stadium:
Allianz Arena, Munich, Germany
Last year's Champions League runner-up will be looking to go one step further this time round. They still have the same nucleus of players, with the talented Toni Kroos returning from a loan spell, making him the the only real addition. Coach Louis van Gaal is vastly experienced, and a team boasting the likes of Arjen Robben and Franck Ribery in the squad, Bayern could go quite far in the competition once again.
Best Starting 11:
4-3-3
AS RomaLast Season:
Serie A Runners-up, Europa League last 32
Manager:
Claudio Ranieri
Key Man:
Francesco Totti
Stadium:
Stadio Olimpico, Rome, Italy
The Serie A runners-up were unlucky not to end up as domestic champions last year, as Mourinho led Inter to their 5th successive title. Boss Claudio Ranieri will need to improve his squad if they are to reach the latter stages, as previous experience shows that Roma struggle once out of the group stage. Francesco Totti is still the main man in Rome, along with the talented Mirko Vucinic and Daniele De Rossi. Brazilian striker Adriano is the key summer signing.
Best Starting 11:
4-2-3-1
CFR ClujLast Season:
Romanian League Winners, Europa LeagueGroup Stage
Manager:
Andrea Mandorlini
Key Man:
Lacina Traore
Stadium:
Dr. Constantin Radulescu Stadium, Cluj-Napoca, Romania
Somewhat of an unknown quantity at this level, they have a history with Roma, beating them 2-1 away last season, while a 0-0 draw with Chelsea was another feather in their cap. The Romanian league winners will look to cause more upsets this time round. Look out for the very direct, yet very promising 6ft 8in striker Lacina Traore.
Best Starting 11:
4-4-2
BasleLast Season:
Swiss Super League Winners, Europa League Group Stage
Manager:
Thorsten Fink
Key Man:
Alexander Frei
Stadium:
St. Jakob-Park, Basle Stadium, Switzerland
Having competed in European football consistently for the past 10 years, make their return to the Champions League by winning their qualifier against FC Sheriff. The Swiss side currently own the talented Argentinean goalkeeper Franco Costanzo in goal, defensive midfielder Gilles Yapi, and the exciting and experienced Swiss pairing of Alexander Frei and Marco Streller.
Best Starting 11:
4-4-2
Group FChelseaLast Season:
Premiership Winners, Champions League last 16
Manager:
Carlo Ancelotti
Key Man:
Frank Lampard
Stadium:
Stamford Bridge, London, England
The Premier League champions should be one of the favourites for this years tournament as they have been strong contenders for the past few years. Didier Drogba, Michael Essien and Frank Lampard are all in their prime, and with Carlo Ancelotti at the helm, his experience could make the blues the first London based Champions League winners.
Best Starting 11:
4-4-2 Diamond
MarseilleLast Season:
Ligue 1 Winners, Champions League Group Stage, Europa League last 16
Manager:
Didier Deschamps
Key Man:
Lucho Gonzalez
Stadium:
Stade Velodrome, Marseille, France
Marseille collected their first league title for 18 years, and will look to carry this success into the Champions League campaign. They've added the man looked at by teams all over Europe; Loic Remy, as well as France international, and a player seemingly perfect for Ligue 1; Andre-Pierre Gignac. Marseille could definitely qualify from the group.
Best Starting 11:
4-2-3-1
Spartak MoscowLast Season:
Russian Premier League 2nd
Manager:
Valery Karpin
Key Man:
Welliton
Stadium:
Luzhniki Stadium, Moscow, Russia (Artificial pitch)
This heavily Brazilian influenced Moscow side will be one of the trickier sides in this years Champions League and could definitely cause a few upsets at home. Look out for star striker Welliton, the 23 year old has a goal scoring record is next to nothing, scoring 44 goals in 64 appearances.
Best Starting 11:
4-5-1
MSK ZilinaLast Season:
Slovak Cargon League Winners, Europa League Play-offs
Manager:
Pavel Hapal
Key Man:
Martin Dubravka
Stadium:
Stadion Pod Dubnom, Zilina, Slovakia
The Slovakian side are definitely the most unknown side in this years draw, but they made it in to the hat by knocking out former ever present side Sparta Prague. Look out for the goalkeeper Martin Dubravka, he can expect to be in for a tough time, but will need to be at his best to help his side get any points in the group
Best Starting 11:
4-4-2
Group GAC MilanLast Season:
Serie A 3rd, Champions League last 16
Manager:
Massimililiano Allegri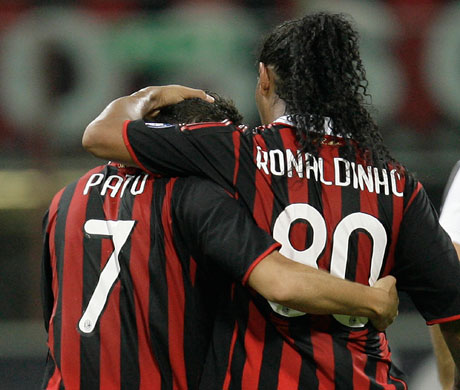 Key Man:
Pato
Stadium:
Giuseppe Meazza, Milan, Italy
Its become evidently more clear that the money that was in Italian football no longer exitsts, with the likes of Spanish and English clubs speading copeuous amounts on transfers and wages. In AC Milan's case, they have resgined some of the older players in the squad, and brougth in a few loan players and free transfers. Some of the names resigned include Massimo Oddo and Gianluca Zambrotta, while Kevin Prince Boateng comesi n on loan from Genoa, while 34 year old veteren Mario Yepes joins on a free. More interestingly now though, is that superstars Robinho and Zlatan Ibrahimovic could possibly be joining on a season long loan, which undoubtedly would put them amongst the top contenders (should the deals happen!). However if these deals dont happen, I doubt this aging Milan side could make it out of the group.
Best Starting 11:
4-1-2-2-1
Real MadridLast Season:
La Liga Runners-up, Champions League last 16
Manager:
Jose Mourinho
Key Man:
Cristiano Ronaldo
Stadium:
Santiago Bernabeu Stadium, Madrid, Spain
Jose Mourinho, aka The Special One, took Italian giants Inter Milan to a historic treble last season, and now he has been given the biggest job in World football. He is expected to deliver immediate success, or he could be looking for a new club at the end of the season, not that that would bother the extravegant Portuguese 47 year old. Now to the matters on the pitch, Real still boast a squad compiled of talented stars such as Karima Benzema, Kaka, Sergio Ramos, Gonzalo Higuain, Iker Casillas, and of course, Cristiano Ronaldo. Add to that list, the likes of Pedro Leon, Sami Khedira, Sergio Canales, Ricardo Carvalho, Angel Di Maria and the most exciting signing Mesut Ozil. All the ingrediants are there for Real to collect their 10th European title.
Best Starting 11:
4-2-3-1
AjaxLast Season:
Eredivisie Runners-up, Europa League last 16
Manager:
Martin Jol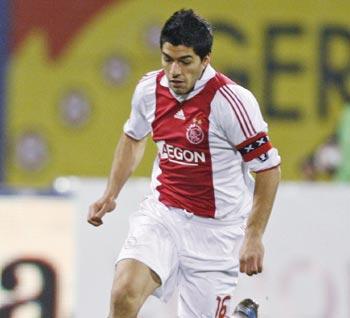 Key Man:
Luiz Suarez
Stadium:
Amsterdam ArenA, Amsterdam, Netherlands
Martin Jol was refused the chance to take over at Fulham, as the Dutch hierachy feel he still has a job to, as well as a contract to honour. Now Ajax, lead at the front by the talented, yet controversial Luis Suarez, have made it into the Champions League proper for the first time in a number of years. A young, yet talented squad, will have thier work cut out even to make the Europa League spot.
Best Starting 11:
4-3-3
AJ AuxerreLast Season:
Ligue 1 3rd place,
Manager:
Juan Fernandez
Key Man:
Benoit Pedretti
Stadium:
Stade de l'Abbe-Deschamps, Auxerre, France
The French side the perrenial UEFA Cup side in recent history, and manager Juan Fernandez has the likes of Benoit Pedretti, Valter Birsa and striker Jelen can all help make this difficult for the big boys in the group. Auxerre are said to be
a strong organised side, capable of causing difficulties from set pieces
.
Best Starting 11:
4-2-3-1
Group HArsenalLast Season:
Premiership 3rd place, Champions League Quarter Final
Manager:
Arsene Wenger
Key Man:
Cesc Fabregas
Stadium:
Emirates Stadium, London, England
The side from North London play some of the best football in Europe, and posses some of the best young players, some of the best training facilities and probably the most innovative and creative manager in the history of the game. The only trophy that eludes this great club is indeed the biggest of them all, and no one deserves to win it more than manager Arsene Wenger. However if everybody got what they deserved, then the World would be a perfect place, but we all know that's not the case. Wenger has signed Lorient defender Laurent Koscielny and French international Sebastian Squillaci to bolster his defence, while Marouane Chamahk has joined on a free transfer and has vast Champions League experience. Out goes Eduardo, William Gallas, Mikael Silvestre and Phillipe Senderos, but Arsenal won't lose too much sleep over that. The only thing standing between Arsenal and a great team, I'm unfortunate to say is the goalkeeper; Manuel Almunia, who just doesn't cut the mustard.
Best Starting 11:
4-2-3-1
Shaktar DonetskLast Season:
Ukrainian Premier League Winners, Europa League last 32
Manager:
Mircea Lucescu
Key Man:
Darijo Srna
Stadium:
Donbass Arena, Donetsk, Ukraine
The Ukrainian team are not to be underestimated, and any team heading out to Eastern Europe could come into some real difficulty. The 2009 UEFA Cup winners, had a poor European campaign last year, but should be ready to cause problems in this campaign. Familiar faces are those such as Czech Republic defender Thomas Hubschman, Croatian international and club captain Dario Srna, and the strong Brazilian influence of Jadson, Douglas Costa and Fernandinho add flair as well as some added steel in midfield. The most known player on these shores however, is former Arsenal striker Eduardo da Silva, who spent 3 years in England, scoring 8 times in 41 appearances.
Best Starting 11:
4-2-3-1
Sporting BragaLast Season:
Portuguese Liga 2nd,ropa League third qualifying round
Manager:
Doingos Paciencia
Key Man:
Alan
Stadium:
Estadio Axa, Braga, Portugal
Portuguese Liga runners-up caused a shock, and at the same time particularly impressed by knocking out Spanish giants Sevilla 5-3 over two legs. Braga are another team in this years Champions League who have a strong Brazilian influence in their side including the likes of Moises, Vandinho and the star man against Sevilla; Alan. The 30 year old has spent 9 years in Portugal, and scored a hat trick in the final qualifying round.
Best Starting 11:
4-3-2-1
PartizanLast Season:
Serbian SuperLiga Winners, Europa League Group Stage
Manager:
Aleksandar Stanojevic
Key Man:
Cleo
Stadium:
Partizan Stadion FK, Belgrade, Serbia
The biggest supported club in Serbia, finished atop of their domestic league 7 points clear of their nearest rivals Red Star. They now make their long awaiting return to the Champions League after a six year absence. Look out for 25 year old Brazilian striker Cleo, who joined the club in 2009 and has scored 15 times in 28 appearances.
Best Starting 11:
4-4-1-1