Everton
Everton's squad were depleted last season right from the very beginning when the likes of Phil Jagielka, Mikael Arteta and many others were missing through long term injuries, and subsequently Everton were not giving a true reflection of themselves in the early stages of the season.
Despite this, the resilient David Moyes, managed to bring in the excellent Landon Donavon and Diniyar Bilyaletdinov who settled straight away and impressed while the youngster Jack Rodwell and the rejuvenated Louis Saha managed to contribute Everton reaching a respectable 8th place finish in the league.
This season expect David Moyes to have a fully fit squad to pick from whereby this Everton side (if fit) could challenge Liverpool and Manchester City for that fourth place finish.
Key Player:
Mikel Arteta
The Spainiard just this week has signed a new five year contract with the club. After being linked with a move to London and a return to Spain, the Everton number 10 has decided to stay which is music to the Everton fans ears. 28 year old Arteta is known for his passing ability, vision, creativity and composure and is vital to the Toffees and is the key playmaker in midfield. A fully fit Arteta can make the difference on any given day.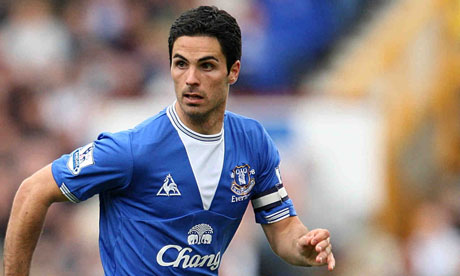 Manager:
David Moyes
Key Signing:
Jermaine Beckford
The talented striker is untested at the highest level in England, but David Moyes's gamble on the 26 year old is the stuff dreams are made of. Beckford joins on free transfer after helping Leeds to promotion last year, and he is talented finisher with an eye for goal and an abundance of pace.
Aims:
FA Cup challenge and Europa League place
Prediction:
7th
I feel Everton will be knocking on the door this season, but it all relies on the big names being fit. Everton have a great squad, a solid goalkeeper in Tim Howard, a very talented midfield with the likes of Steven Pienaar, Diniyar Bilyaletdinov, Mikael Arteta, Tim Cahill and Leon Osmond, and an array of attacking options such as Louis Saha, Jermaine Beckford and Yakubu. Expect them to do well in the Cup competitions this year while causing problems for the teams challenging for the title.
First Five Fixtures:
Blackburn (A), Wolves (H), Aston Villa (A), Manchester Utd (H), Newcastle (H)
Best 11
div>