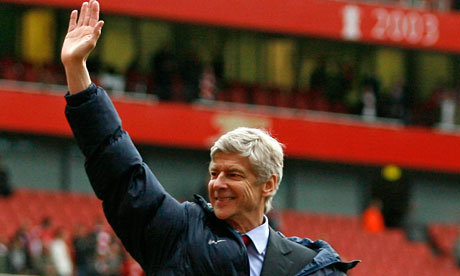 Arsenal

Last year the Gunners were very much in the title race, up until around the February mark where the injury curse hit the North London side once again, with the likes of Cesc Fabregas, Andrey Arshavin and Eduardo adding to an injury list which already included long termers Robin Van Persie, Johann Djourou and Aaron Ramsey, which subsequently destroyed all Arsenal's chances for any silverware.

This time around, it would seem boss Arsene Wenger has got rid of the last of the big influences in the dressing room, in William Gallas, the shocking Mikael Silvestre, as well as the out of contract Fran Merida, Sol Campbell and the sale of fans favourite Eduardo Da Silva. Also Philippe Senderos made the trip across London to join Fulham.

With this mini shake up in progress, Wenger brought in Moroccan striker Marouane Chamakh on a free transfer from Girondins de Bordeaux, and Laurent Koscienly from Lorient for a fee believe to be £8.5million. Also brought in were two promising youngsters in
Kyle Ebecilio
and
Phil Roberts
, expected to go into the youth team.




Now if you do the numbers, it doesn't take a genius to realise that 13 players out in total and four players in, that the squad is imbalanced.

Up front it would seem Bendtner, Arshavin, Walcott, Vela, Chamakh and a fully fit Van Persie would make Arsenal more than sufficient enough going forward, so no more players are needed.




In midfield it seems Arsene Wenger again has more than enough midfielders to compete, with youngsters Emmanuel Frimpong, Craig Eastmond and the talented Jack Wilshere expected to make the step up into the first team.

In defence it's evident that Arsenal are down to the bare bones, and Wenger needs to address this immediately. Thomas Vermaelen is a sensational defender and is now the heart of the side, and he is expected to play alongside new signing Koscienly, who particularly impressed in the Emirates Cup and other preseason matches. Finally Johan Djourou, for me, has been drafted in to be the third choice defender, however he is far too injury prone to be relied on, so Wenger must sign a new centre back, and establish Harvard Nordtveit as another possible defensive option capable of competing in the Premiership.

Finally in goal, Arsenal's problems are abundantly clear, but it seems Arsene Wenger is unwilling to purchase a new goalkeeper, and it becoming the most likely result that he will stick with Manuel Almunia, much to the dismay of many Gunners fans.

Key Player: Cesc Fabregas

Arsenal have already won one battle this season, and that was with Barcelona. Their pursuit and blatant tapping up, of the young Arsenal midfielder, was not enough to manufacture a transfer to the Spanish champions. Now with Cesc publically announcing his decision to stay with the Gunners, this is an undoubted boost for the whole club, and for the first summer I can remember for some while, a big name hasn't left the club. Cesc is the captain of Arsenal, and is without doubt the truly World Class player owned by the club, he could be the difference this season.




Manager: Arsene Wenger

Key Signing: Laurent Koscienly
Again, another relatively unknown player signed by Arsene Wenger. The 24 year old signed from French side Lorient, after he spent just one season playing in the French top division. An uncapped Frenchman with Polish parents, he is over 6ft tall and is known for his tough tackling and ability to read the game well. Not much more is known on Koscienly, but it's clear he seems a little lightweight, but I'm sure these concerns will be addressed before the start of the Premier League opener against Liverpool.




Aims: Silverware and Champions League Football

Prediction: 3rd

Arsenal definitely have the squad to compete in the league, but they must add another defender and look to sign a new goalkeeper if they are to win the league. For now they are probably still one of the best teams and are more than capable of competing, while domestically I believe the time has come for Wenger to no longer take the FA and League Cup as practise competitions and take them a lot more seriously, competing to win as many as possible.




First Five Fixtures: Liverpool (A), Blackpool (H), Blackburn (A), Bolton (H), Sunderland (A)